Stand up paddle boarding on Maui has become one of the fastest growing water sports, thanks to its accessibility, variety of uses, health benefits and quick learning curve for beginners. The sport first became popular on Oahu when surf instructors would stand up on their boards to get a better view of surfers, shouting instructions and even riding waves themselves while using the paddle to steer them in the right direction. Called hoe he'e nalu in Hawaiian, stand up paddle surfing is now a common sight throughout the islands.
Common health benefits of stand up paddle boarding and stand up paddle surfing include:
Core workout
Improves balance
Low impact exercise
Heightened cardio fitness
Stress relief
Creative exercise (alternative to surfing, yoga practice, etc.)
 Professional Stand Up Surfers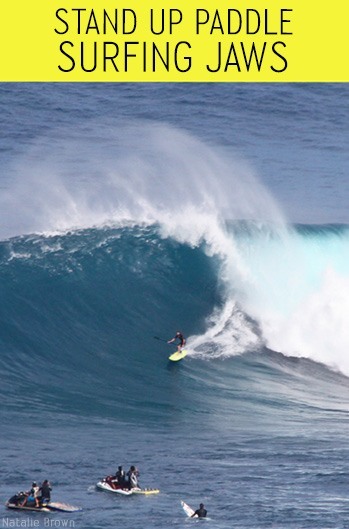 Some of Maui's favorite big wave surfers and water sports enthusiasts have taken stand up paddle boarding to the next level with stand up paddle surfing, riding massive waves at local favorite surf spots like Peahi (Jaws), Ho'okipa Beach Park and Honolua Bay on Maui's North Shore.
Laird Hamilton, Maui resident and world renowned surfer, uses SUP for cross training purposes in order to build strength, work on balance and perfect yet another challenging water sport. He also consistently ups the game with tricks like 180 spins, 360 spins and more. See him in action doing SUP tricks in Kauai.
Dave Kalama, another well known Maui resident, is one of the fastest stand up paddle boarders in the world at almost 50 years old. His grandfather helped introduce outrigger canoeing to California in the 1950's, his father was an amateur surf champion, and today, Dave teaches others how to improve their skills in stand up paddle boarding, including wave dynamics, fitness tips and stroke techniques at Kalama Kamp, held throughout the year in places like Maui, Turks and Caicos, Hood River and Fiji.
Kai Lenny, Maui native and student of Dave Kalama, has earned his stripes as a six time SUP World Champion and continues to challenge the best in the sport with his skills in stand up paddle surfing, among other sports. See him in action riding SUP at Jaws in North Maui:
The Best Stand Up Paddle Board Shaper
Kai is also a good friend and student of Robby Naish, windsurfing legend and go-to for the best stand up paddle boards in the business, branded under his own name. Hawaiian Paddle Sports exclusively uses his stand up paddle boards because of their superior quality and variety, perfect for professionals and beginners alike. They are known as the most maneuverable and easiest to ride paddle boards in the industry, and we always take advantage of the opportunity to give back to the people who have made a name for themselves in the surfing industry.
Other Maui stand up paddle board pros include Jeremy Rigs, Connor Baxter and Zane Schweitzer, who are consistently pushing the sport to a new level in terms of speed and skills. This June marks the 18th annual Molokai to Oahu Paddleboard World Championships, where traditional paddle boarders and stand up paddle boarders from around the globe race 32 miles across the Ka'iwi Channel for a fight to the finish line.
Lessons for Stand Up Paddle Boarding in Maui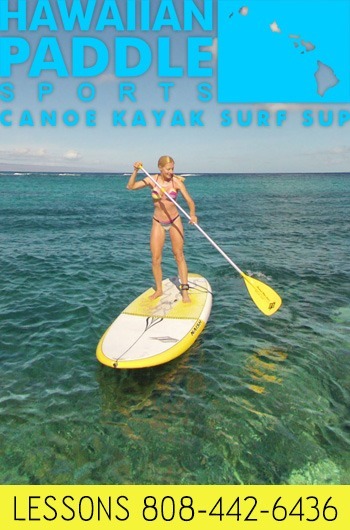 While you may not be a professional stand up paddle boarder doing tricks like the pros, Maui SUP is a perfect activity for beginners with Hawaiian Paddle Sports private, one-on-one instruction. First time SUP students often become comfortable within a matter of minutes, and while wind, waves and currents around Maui may affect how fast and well you're able to perform, we are here to give you the proper instruction to ease you into an enjoyable session on the water. Did you know that half of all stand up paddle boards in the U.S. are sold to women? The new models are lightweight, which allows for anyone to be able to transport it to their nearest body of water… or in our case, the big blue Pacific!
Get out on the water and give stand up paddle boarding in Maui a try! You'll notice quickly that SUP builds your upper body muscles, core, and is the perfect way for beginners to see the reef, enjoy sweeping views of the Maui coastline and try something new. If you happen to visit Maui during whale season (December to May), you may even be treated to a surprise visit, allowing you close-up views that you won't get from the shore or a big boat tour. We also see Hawaiian spinner dolphins and manta rays on occasion, and sea turtles sightings are guaranteed! Our tours take you to the best sites in South and West Maui, including Turtle Town, underwater caves and a variety of beautiful reefs.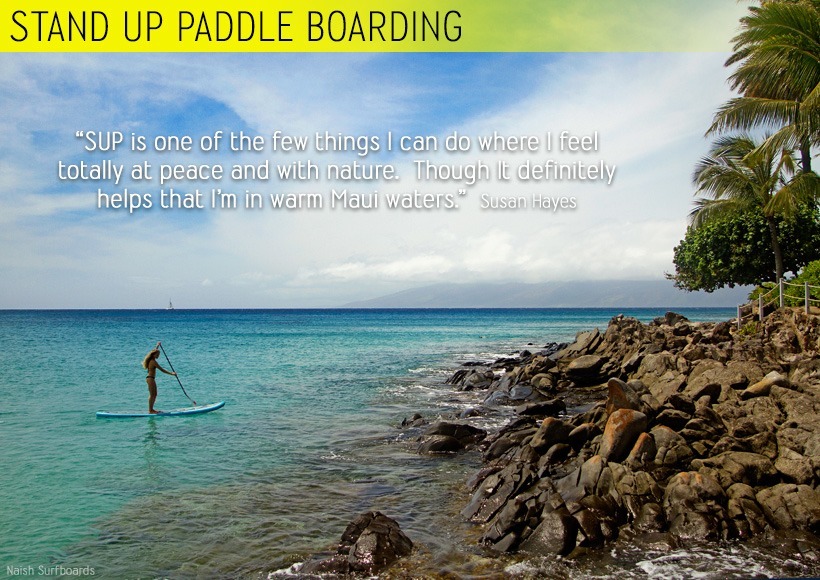 Some useful tips for stand up paddle boarding in Maui include:
Hold the paddle with one hand on the top and the other on the side
Keep your feet parallel and shoulder width apart
Put the blade of the paddle fully in the water and take long strokes, letting your back do most of the work instead of your arms
Tensing up is more likely to make you lose your balance, so relax!
Our team of dedicated and talented guides at Hawaiian Paddle Sports are all very experienced in recreational stand up paddle boarding, so you'll definitely be in good hands during your lesson, catered specifically to you and your friends or family. Have questions, need extra help or looking for a challenge? We'll make  it happen. Our goal is to give you the best and most enjoyable SUP experience in Maui, so relax and get ready to have a great time in paradise!
The next time you're in Maui and hear "Sup, brah?", it might just be a greeting AND a plan for the day.
For more information about stand up paddle boarding on Maui or stand up paddle surfing, including videos, gear, basic tips and destinations, visit Standup Journal.
Contact us
Maui Kayak Adventures
61 Halekuai St., Unit 2
Kihei, HI 96753
United States