While it's obviously no easy task to narrow down our top outdoor activities on Maui – is there really any other kind?
With an average of 200,000 visitors per month, Maui is a hot spot for travelers seeking an upgrade in scenery, adventure, and relaxation in the tropics. And while it's safe to say that most travelers won't spend each waking moment outdoors, savoring the endless sights, sounds and smells of Hawaiian paradise, it's also safe to say that perhaps they should.
We've done our best to provide you with some ideas to liven up your next trip to Maui. Aloha, and enjoy!

#1 Surfing
If surfing didn't make it on this list, it would be one mistaken list indeed. When traveling to Maui, one of the most culturally significant and exciting activities you can participate in is surfing. If you've never tried surfing before, no worries!
A private Maui surf lesson is the perfect way to ensure you take home new memories and a new skill from your recent trip. For those with more experience, there are several excellent Maui surf spots that are perfect for intermediate and advanced levels.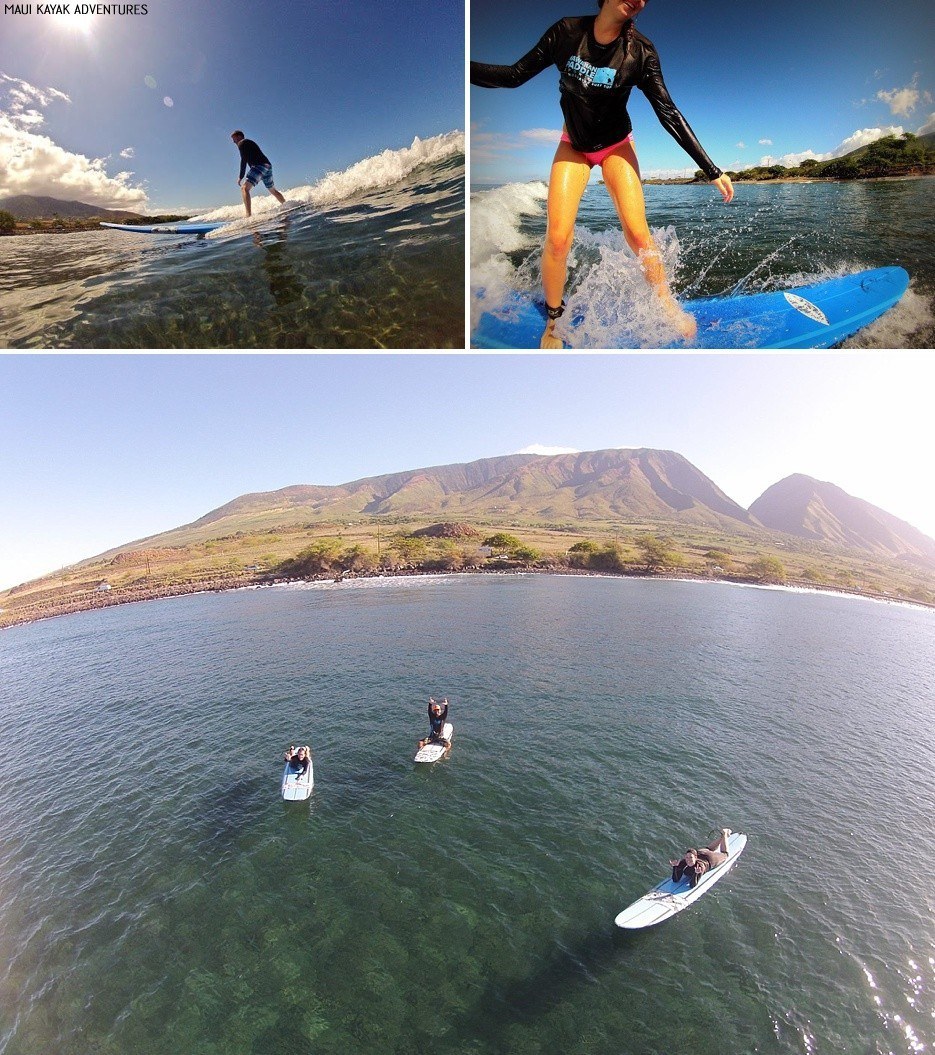 While it's important to remember the proper surfing etiquette in Maui, it's also important to see how fun it can be to learn how to surf in the place where surfing was born.
#2 Kayaking
Kayaking is one of the best ways to explore any body of water, but if you've never kayaked on the ocean, Maui is the perfect place to give it a try. Not only is it a convenient way to reach off-shore snorkeling locations such as Turtle Town, Olowalu and Honolua Bay, but it allows for up-close views of Maui's marine life, including Hawaiian Green Sea Turtles (honu), Hawaiian Spinner Dolphins, the occasional Hawaiian Monk Seal, and during winter months, humpback whales!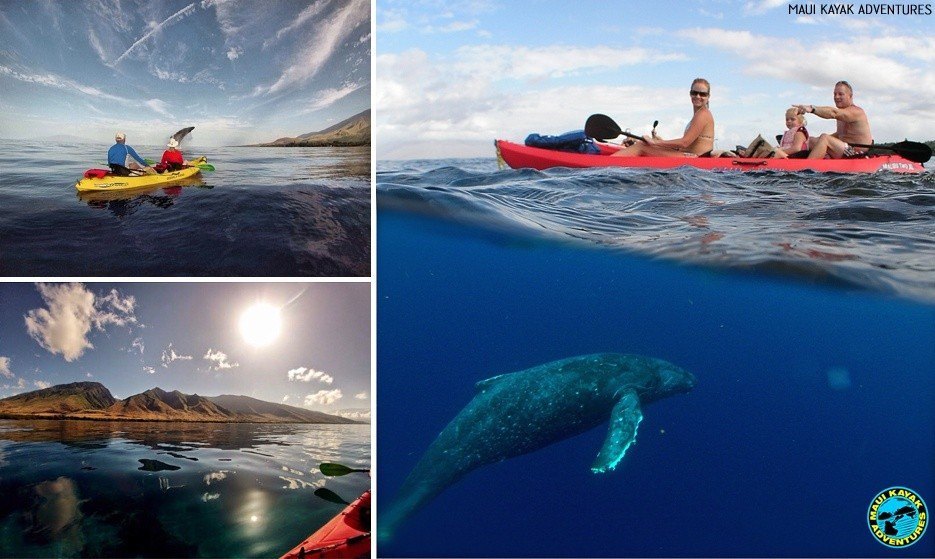 Although kayak rentals are available throughout the island, it's helpful to know the best areas to go once out on the water, not to mention the best paddling techniques to ensure your safety on the ocean. Join one of our Maui kayaking tours and let our Marine Naturalist and rescue-certified tour guides show you the beauty of Maui from a kayak.
#3 Outrigger Canoeing
One of the most valuable things you can do during any trip to Hawaii is learn about the unique culture and historic practices of the Hawaiian Islands and people. Outrigger canoeing is not only the official team sport of the state of Hawaii, but a practice that has been around since approximately 200 AD when the first Polynesian explorers set out in search of new land. Today, outrigger canoeing, surfing and racing are popular activities on Maui, and one that many visitors are eager to try for themselves.

Hawaiian Paddle Sports offers excellent group outrigger canoe tours from South and West Maui, including whale watching, snorkeling and canoe surfing, and each tour includes an overview of the cultural importance of the sport as well as proper paddling instruction and Hawaiian commands.
#4 Stand Up Paddleboarding
The fastest growing water sport on Maui, stand up paddleboarding (or SUP) is one of the most exciting ways to experience the ocean while visiting the Valley Isle. Enjoy views of Maui's scenic shoreline while taking advantage of the perfect perspective to see some of Maui's most common marine life. If you've never experienced stand up paddleboarding on the ocean, we recommend taking a private SUP lesson to learn the best techniques for standing up and staying up.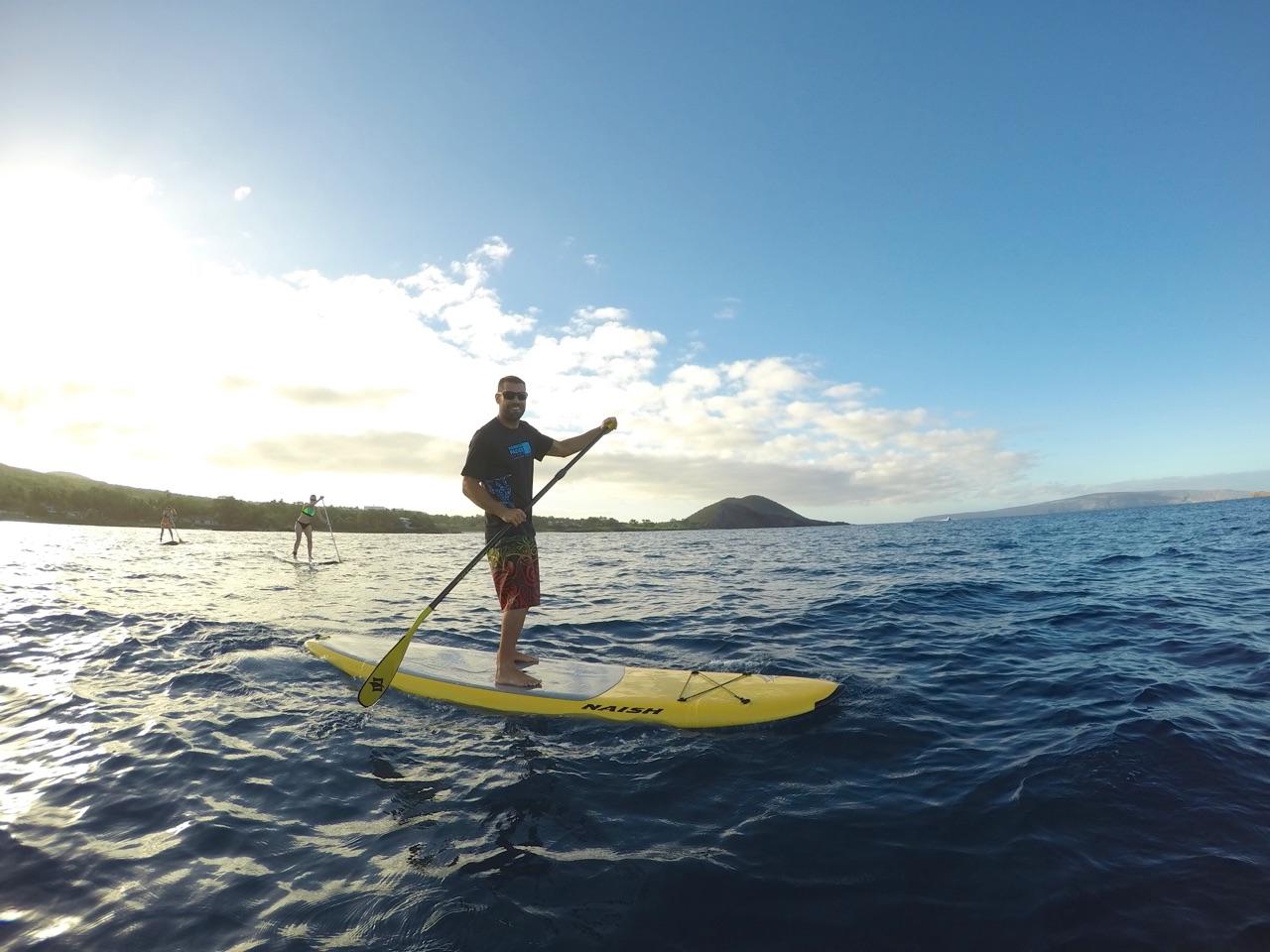 For those with SUP experience, a tour with a certified guide is the ideal way to find the best paddle boarding spots along Maui's shoreline.  SUP is a low-impact workout and a fun activity for visitors of all levels – give it a try and treat yourself to a nice pat on the back afterward.
#5 Hiking
If you consider yourself an outdoor enthusiast, Maui is home to some of the best and most scenic hiking trails in the country. Explore them! Some of our most highly recommended hikes on Maui include Pipiwai Trail in Kipahulu, where you'll walk through a bamboo forest to reach a 400 foot cascading waterfall, as well as the Sliding Sands Trail in Haleakala Crater, Waihee Ridge Trail, and Iao Valley Trail, among others.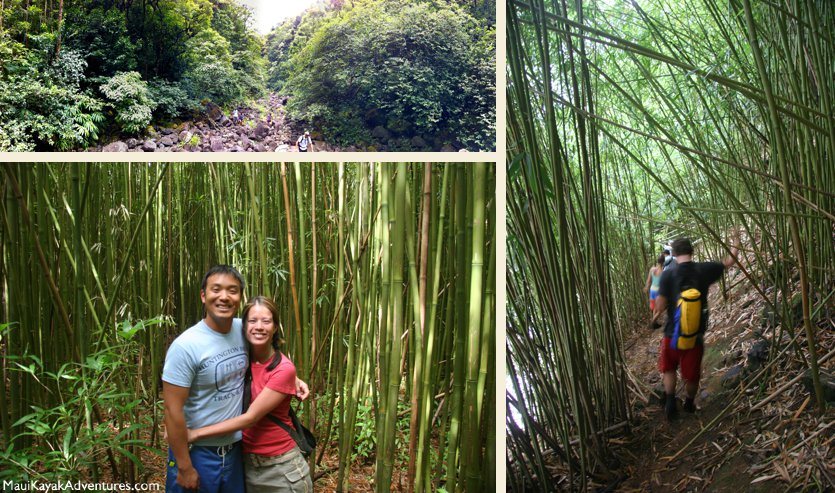 No matter what your level of physical fitness, there is a hiking trail on Maui to accommodate your needs. From lush jungle landscapes to rugged lava fields, mountain panoramic views, and barren, volcanic scenery, Maui has it all. Just don't forget to bring proper hiking shoes and plenty of water!
#6 Snorkeling at Molokini Crater
One of the most popular snorkeling spots in all of Hawaii, Molokini Crater is a volcanic atoll located less than 3 miles off of Maui's southern shore. While it can be reached by kayak or outrigger canoe, most travelers choose to hop aboard a morning snorkel boat tour to visit Molokini. With visibility that can exceed 180 feet, an array of endemic marine life and conditions that are typically protected from strong wind and waves, snorkeling at Molokini Crater is a must for those looking to experience Maui's underwater scenery, considered one of the top outdoor activities on Maui.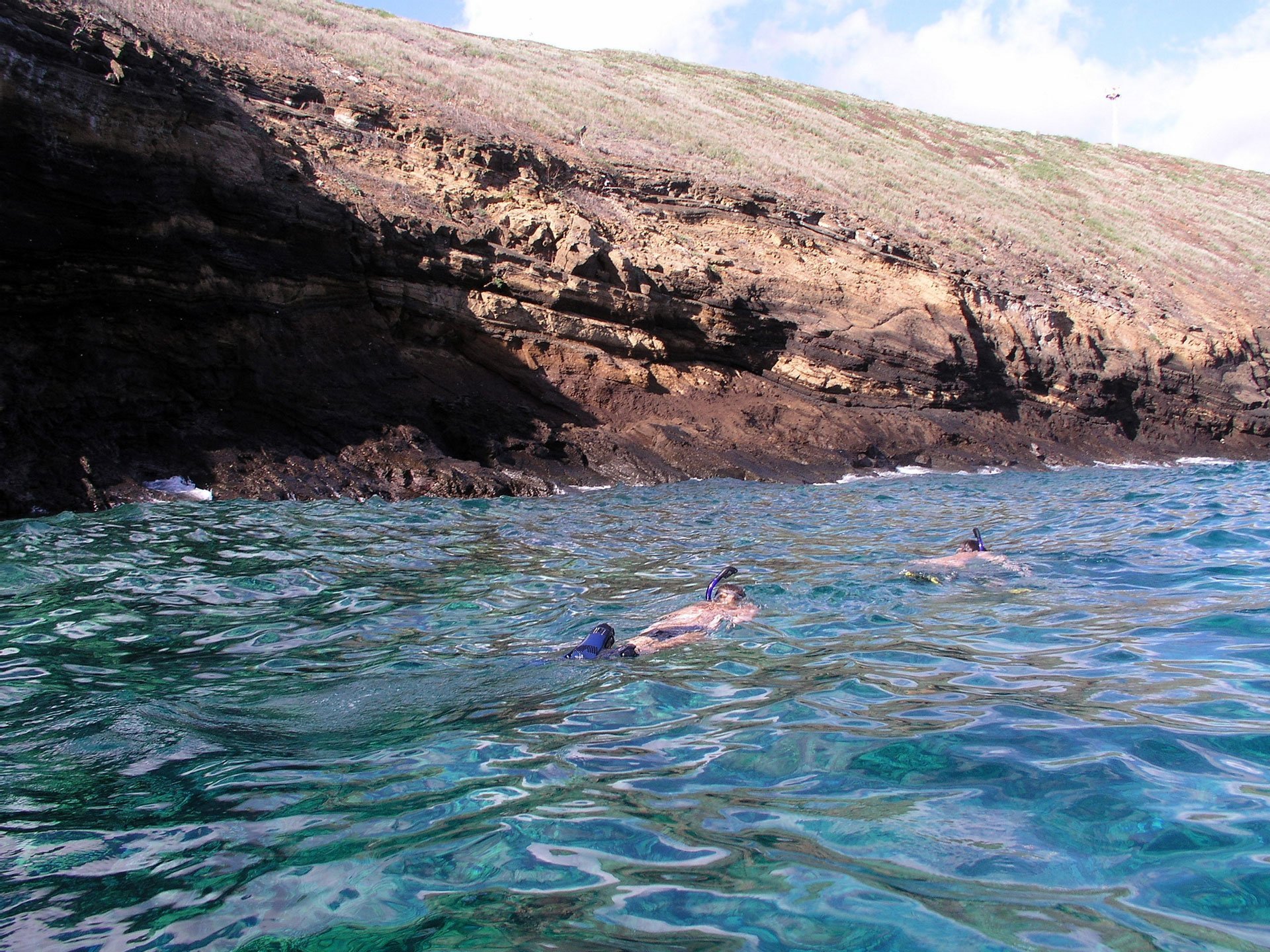 Once an ancient Hawaiian fishing ground, Molokini was more recently used for bombing practice by the U.S. Military during WWII. In 1977, it was classified as a Marine Life Conservation District, allowing for gradual regrowth of the reef, marine life, and bird nesting on the crater itself. Today, Molokini sees nearly 1,000 visitors per day, including snorkelers and scuba divers, thanks in large part to its convenient location and unparalleled visibility.
#7 Mountain Biking
Most visitors don't think of mountain biking when visiting a tropical island, but Maui is actually an excellent place to explore by bike. Join a bike tour to ride down the slopes of Haleakala Volcano, a 23-mile ride with 29 switch backs, or rent a bike to explore on your own.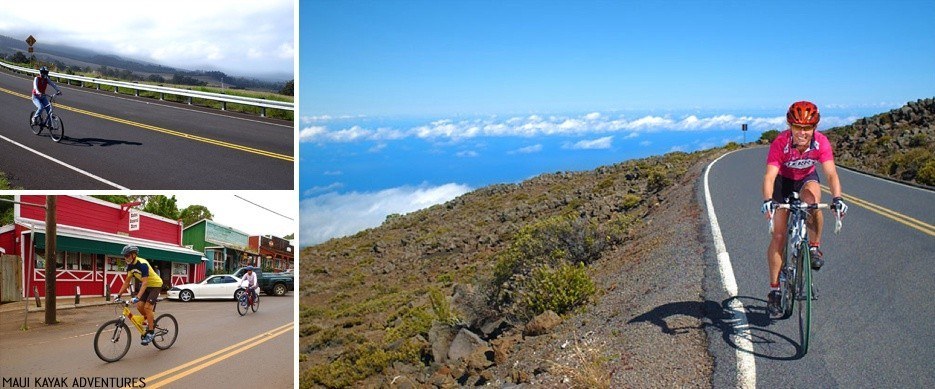 Some of our favorite places for mountain biking on Maui include Kahakapao Trails in Makawao Forest, Mamane Trail in Poli Poli (Kula Forest Reserve), and for advanced bikers, the West Maui Loop.
#8 Ziplining
Ziplining is a fun, family-friendly activity on Maui, and a great way to experience the beauty of Maui's most remarkable outdoor locations. Ride through Maui's eucalyptus forests on the slopes of Haleakala Volcano, or above a natural mountain pool on the West Maui Mountains, and enjoy the view as you zip by!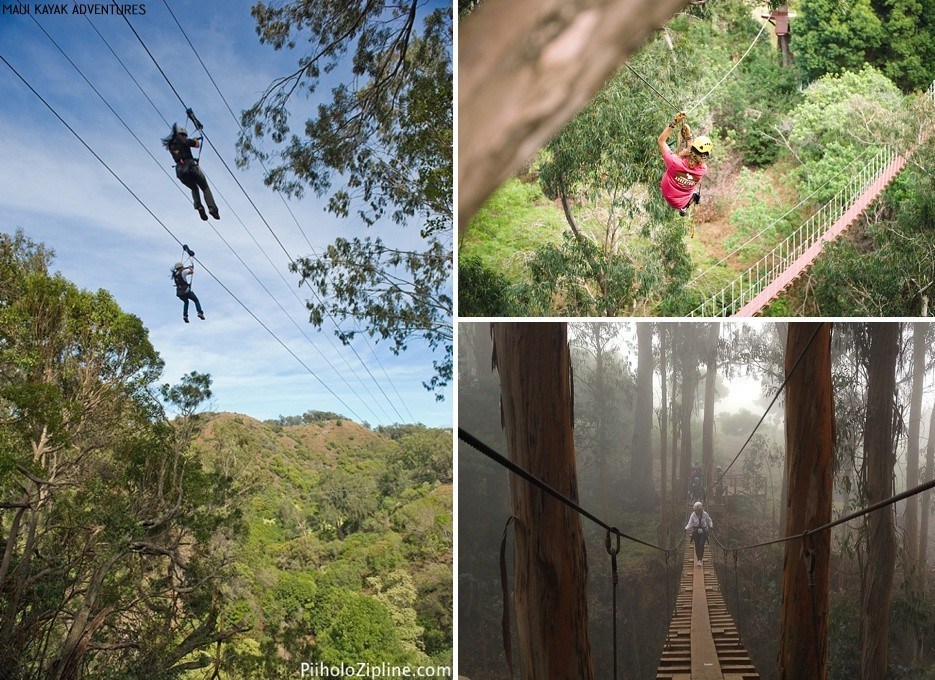 We recommend Piiholo's 6-line Canopy Zipline Tour or Skyline's 8-Line Ka'anapali Adventure, located Upcountry and in West Maui, respectively. Certified guides are there to make sure you're zipping safely, and having a ton of fun in the process.
#9 Captain's Sunset Dinner Sail
Here on Maui, sunset is not just a time of day, but an activity. While you can enjoy a Maui sunset from anywhere on the island, a relaxing boat ride with cocktails, food and good company only makes it that much better.
Trilogy Excursions offers our favorite sunset excursion, the Captain's Sunset Dinner Sail, which includes a 4-course meal, premium open bar, and private table aboard their intimate sailing catamaran, departing three times weekly from Maalaea Harbor. The service is always extremely friendly, and a portion of each ticket sale goes toward their monthly Blue Aina Reef Cleanup Program. Highly recommended for a romantic evening on the ocean!
#10 Relaxing on the Beach
While outdoor activities on Maui are seemingly endless, you probably didn't come all the way to the middle of the Pacific to go, see and do the entire time. No matter what your paradise itinerary consists of, make sure to reserve time for one of the most important outdoor activities there is – relaxing! With 81 beaches to choose from, you're sure to find your sandy tropical paradise in no time.
Although you'll find beaches in every area of the island, some of our favorites to kick back and relax include Ka'anapali Beach, Napili Bay, Baldwin Beach, Charley Young, Big Beach and Hamoa Beach. Don't forget to bring reef-safe SPF, water, and please take your trash with you when you leave. Remember, when in doubt, don't go out!
Mahalo for reading our list of the Top 10 Maui outdoor activities. We look forward to sharing the beauty of our island with each and every one of our guests, and hope to see you on the ocean with us soon! What outdoor activity did we miss? Let us know in the comments below.
Contact us
Maui Kayak Adventures
61 Halekuai St., Unit 2
Kihei, HI 96753
United States