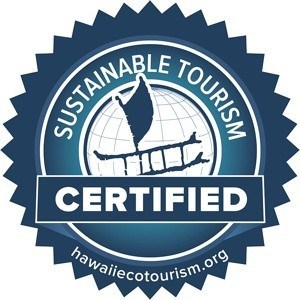 As a business and tour operator in Hawaii, one of the most valuable things we can do is teach the importance of caring for the 'aina and kai (land and ocean) and use that knowledge to help keep Maui no ka oi through sustainability in ecotourism. By continuing to utilize sustainable practices at every opportunity, we hope to bring those values to the forefront and inspire others to do the same. We are honored to be one of only five tour operators on Maui to be certified in Sustainable Tourism, along with our friends at Hawaiian Paddle Sports, Trilogy Excursions, Atlantis Adventures and Pacific Whale Foundation.
In honor of Earth Day on April 22nd, please enjoy a historical look at how this now globally-celebrated holiday came to be and the local efforts taking place in order to keep Hawaii at the top of sustainable and eco-conscious tourism.  For a list of Earth Day events on Maui, see bottom of the article.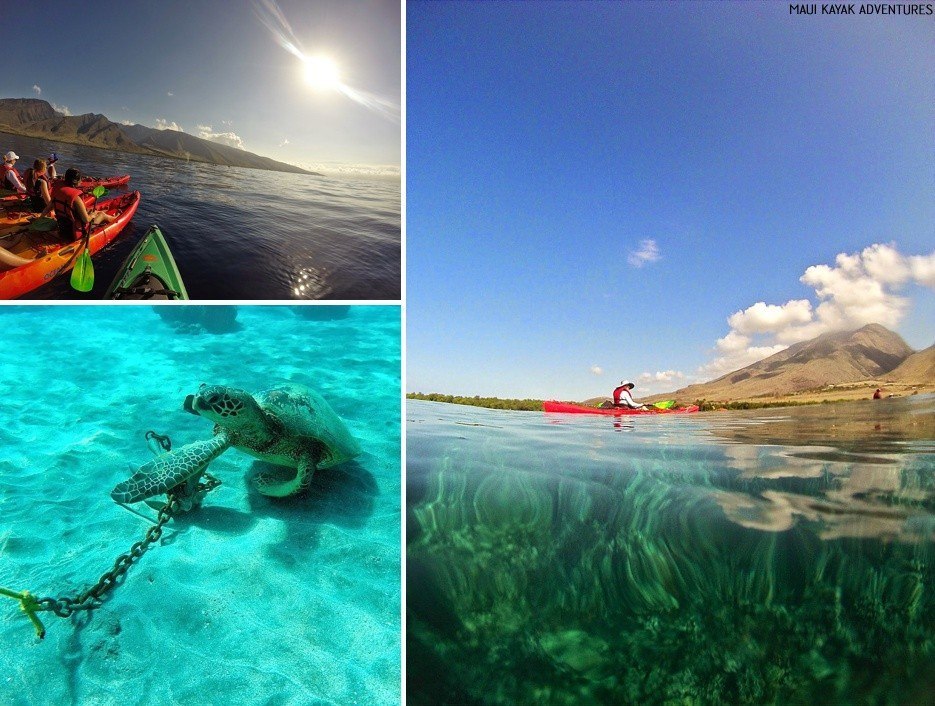 Sustainable Tourism on Maui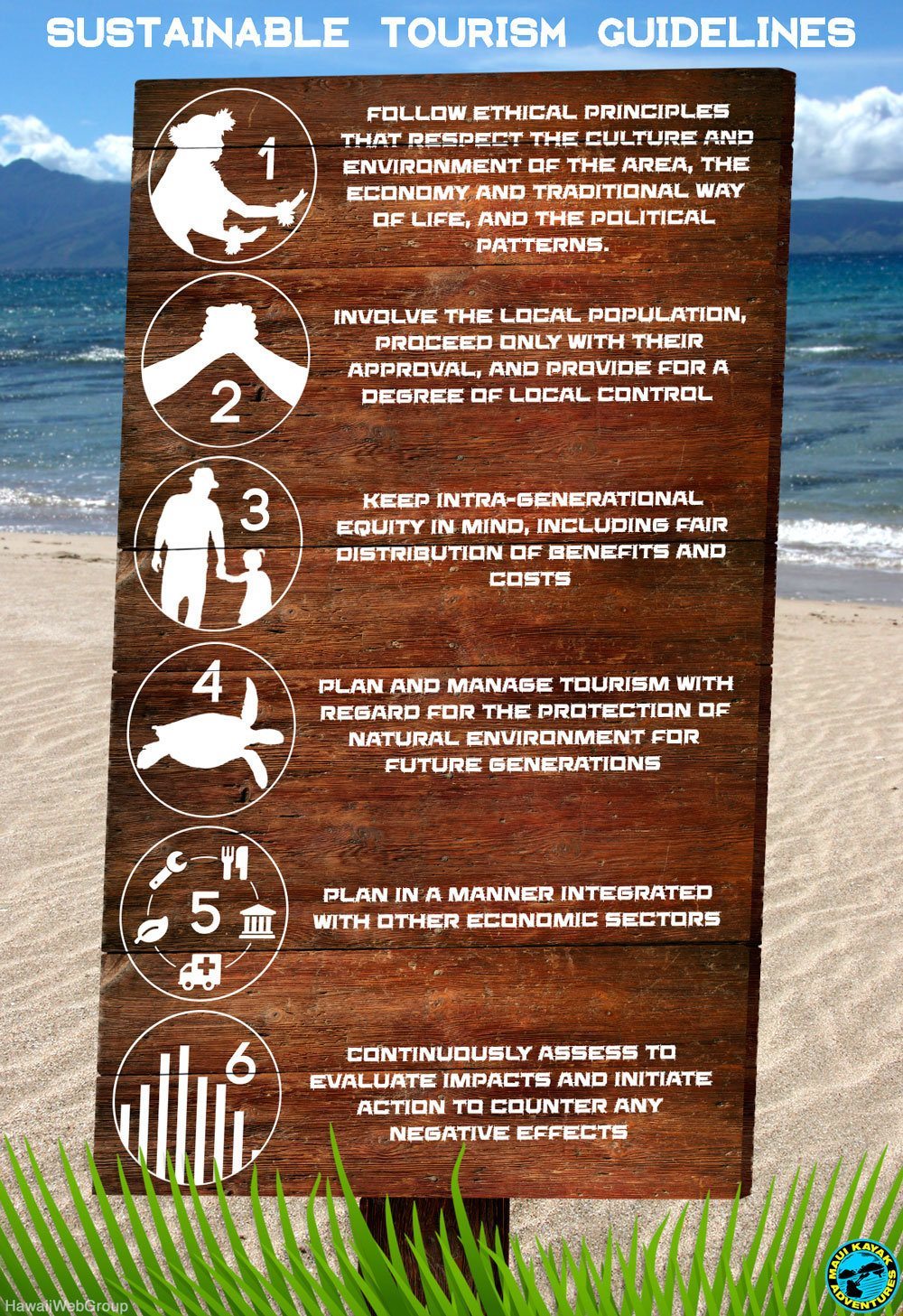 Tourism has been the largest economic sector in Hawaii since the early 1960s, but sustainable tourism is a relatively new concept in the Aloha State. The Hawaii Ecotourism Association was founded in 1995 as a result of Hawaii's Conference on Ecotourism. Sustainable tourism, as defined locally by the Hawaii Tourism Authority (HTA), is the practice of 'maximizing social and economic benefits to Hawaii's communities and businesses while respecting, nourishing, preserving and enhancing Hawaii's natural, cultural and human assets'.
As defined by members of the association, sustainable tourism must follow specific criteria, including:
1) Follow ethical principles that respect the culture and environment of the area, the economy and traditional way of life, and the political patterns
2) Involve the local population, proceed only with their approval, and provide for a degree of local control
3) Keep intra-generational equity in mind, including fair distribution of benefits and costs
4) Plan and manage tourism with regard for the protection of natural environment for future generations
5) Plan in a manner integrated with other economic sectors
6) Continuously assess to evaluate impacts and initiate action to counter any negative effects
In 2013, the Hawaii Ecotourism Association received funding from the Hawaii Tourism Authority to develop and implement the Sustainable Tour Operation Certification Program, open to any and all tour operator in the state of Hawaii, with specific consideration for those who operate marine tours.  At Maui Kayak Adventures, we fulfill our commitment the Hawaii Ecotourism Association to achieve Sustainable Tourism Certification in several ways:
Educate guests about respectful interaction with nature and/or culture
Conduct sustainable tours – no motor, no diesel, no noise pollution
Provide guests with water in re-usable, environmentally-friendly water bottles so we are not adding additional plastics into the environment
Conduct beach/site trash pick-up, keeping all protected natural areas and culturally significant areas visited clean
Abide to a no-touch policy: wildlife is observed from an appropriate and respectful distance
Observation of humpback whales is at the mandated distance of 100 yards, and limited to no more than one-half hour
Give back: monthly contributions are made to local, non-profit organizations and employees volunteer their time for monthly service projects
Our staff participates in various Hawaiian cultural training classes and activities to ensure cultural protocols, practices, and sensitivities are respected
Maui Kayak Adventures is proud to be included on the list of Sustainable Tour Operators and we hope to see many more in years to come.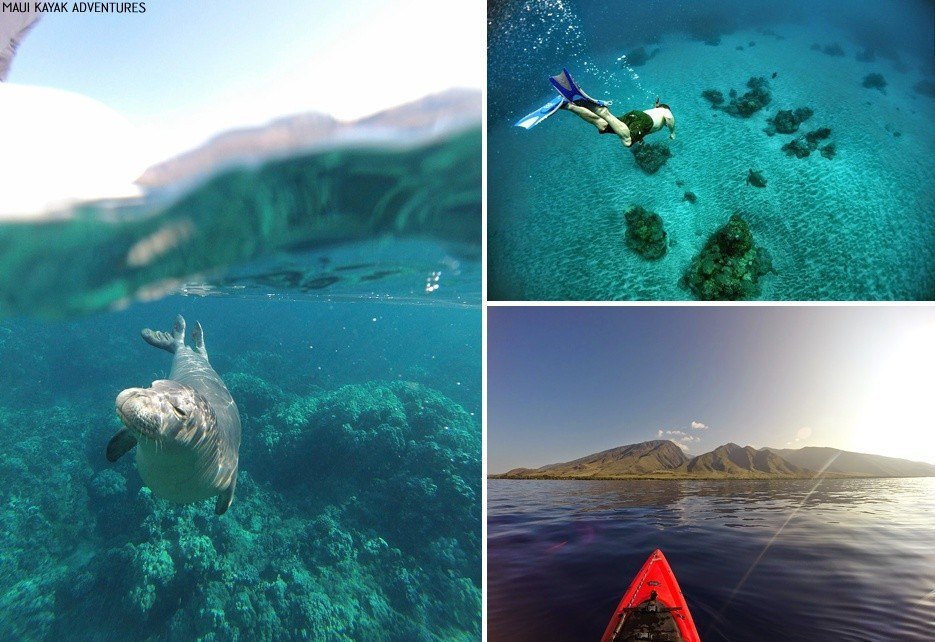 Earth Day History
In 1960s America, it's safe to say that environmental concerns were on the back-burner. In 1962, however, Rachel Carson's best-selling novel, Silent Spring, became a radically important source of information about the health of the environment and our role in keeping it a living, breathing thing.
Eight years later, environmental advocate and Wisconsin Senator Gaylord Nelson, inspired by antiwar protests and 'teach-ins' of the late 60s, called for a 'national teach-in on the environment'. After witnessing repercussions of the 1969 oil spill in Santa Barbara, California, Nelson realized the need for an environmental movement that would create widespread awareness and advocacy for air and water pollution. Under Nelson's authority, April 22, 1970 was designated a National Day for the Environment.
In an effort to reach more people, Nelson recruited Republican Congressman Pete McCloskey and environmental activist Denis Hayes, who created a national staff to promote the event throughout the country.
Their efforts paid off. More than 20 million Americans participated in the first ever Earth Day celebration.
"The American people finally had a forum to express its concern about what was happening to the land, rivers, lakes and air – and they did so with spectacular exuberance." -Gaylord Nelson
And the momentum kept going. In 1970, the Environmental Protection Agency (EPA) was established, and over the next decade, several pieces of key legislation were passed, including the Water Quality Improvement Act, Surface Mining Control and Reclamation Act, Clean Air Act, Endangered Species Act, and Toxic Substances Control Act.
"Public opinion polls indicate that a permanent change in national priorities followed Earth Day in 1970. When polled in May 1971, 25% of the U.S. public declared protecting the environment to be an important goal, a 2,500% increase over 1969." -Environmental Protection Agency
In 1990, Denis Hayes aided in Earth Day becoming a global campaign – more than 200 million people in 141 countries celebrated the event. It is now the 'largest civic event in the world'.
President Bill Clinton awarded Gaylord Nelson the Presidential Medal of Freedom in 1995 for his role as the founder of Earth Day, and in 2009, the UN renamed April 22nd as International Mother Earth Day.
"Earth Day worked because of the spontaneous response at the grassroots level. We had neither the time nor resources to organize 20 million demonstrators and the thousands of schools and local communities that participated. That was the remarkable thing about Earth Day. It organized itself." -Gaylord Nelson
Get Involved
As a visitor on Maui, you can participate in sustainability in ecotourism by following a few simple steps, including not touching or harassing anything you find in the ocean, properly disposing of all your litter, not approaching resting sea turtles or monk seals on land, practicing catch and release fishing, wearing reef-safe sunscreen, and leaving rocks and sand where you find them (lest Pelé find out and curse you with bad luck).
Several Earth Day Events worth checking out:
Maui Surfrider is hosting a beach cleanup on Saturday, April 18th at Haycraft (Ma'alaea).  You can also join them for their Rain Garden Work day on Sunday, April 19th at Pohaku Park.
Join the Save Honolua Coalition for a Honolua Bay clean up on Saturday, April 18th at 8am.
The Maui Earth Day Festival will be held on Sunday, April 19th at Ke'opuolani Park Amphitheater in Kahului.
University of Hawaii Maui Campus is hosting an Earth Day Festival & Jam – play keyboards or bring your own instrument!
Volunteer with Ka'anapali Makai Watch! Join them for this workshop on April 25th to learn more, and find out where you fit in!
Help support sustainable tourism on Maui and join Maui Kayak Adventures for a tour! We hope to see you out on the ocean with us soon, and as always, mahalo for reading.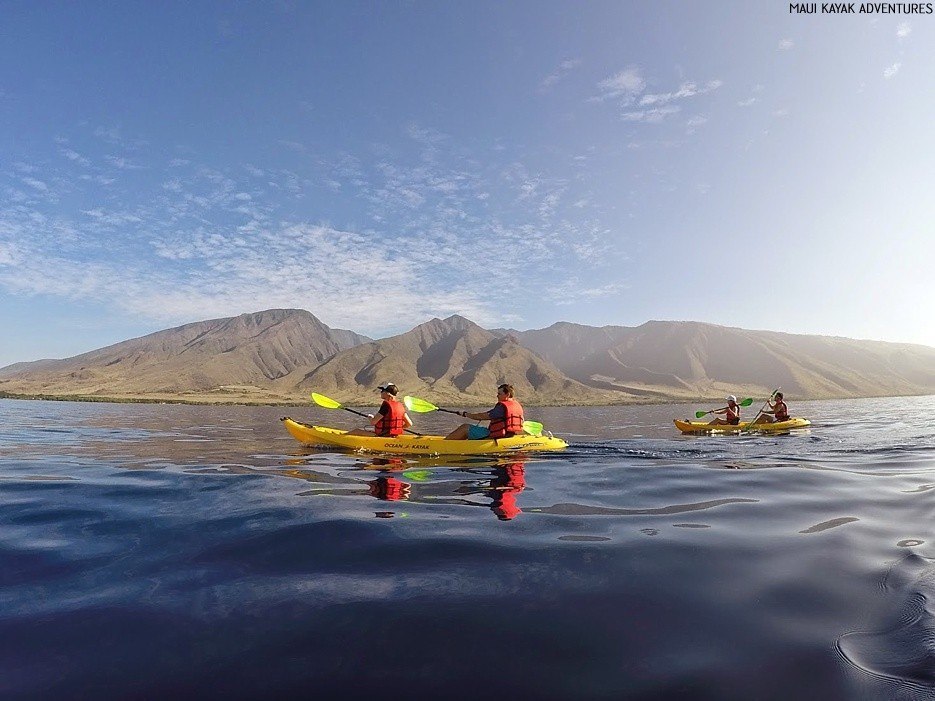 Have an Earth Day event you'd like to add to the list? Please email [email protected] with details and a photo. Mahalo!
Contact us
Maui Kayak Adventures
61 Halekuai St., Unit 2
Kihei, HI 96753
United States