If the thought of spa days, naps on the beach and lounging by resort pools is enough to bore you to tears, don't worry. You're not alone. Luckily, Maui is also a haven for thrill-seekers of all kinds, from cliff jumpers to big wave surfers to wilderness survivalists. Check out our tips for adventure travel in Maui, and don't forget to pack your adrenaline. And insurance policy.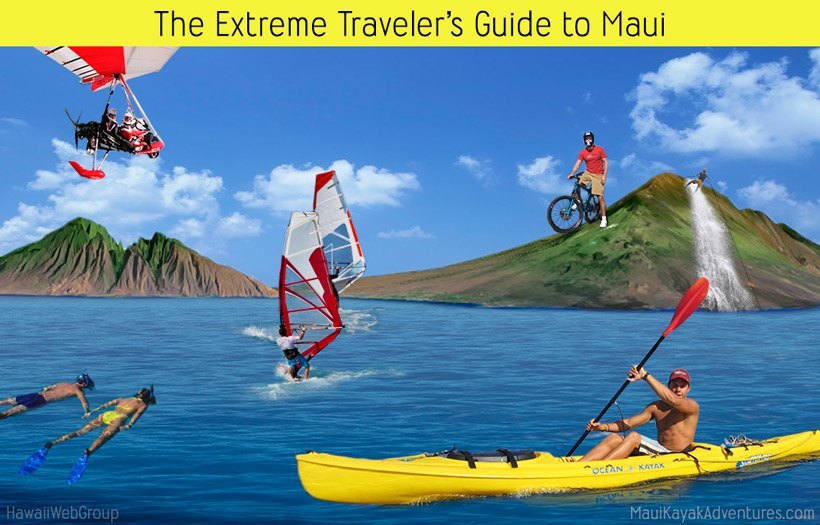 The Extreme Traveler's Guide to Maui
Paddle to Molokini Crater
Molokini Crater is a volcanic atoll located 3.5 miles off the south coast of Maui, perfect for snorkeling and scuba diving enthusiasts due to its high visibility, a large population of tropical fish and proximity to Maui. While thousands of people visit Molokini Crater on large snorkel and scuba diving boats every year, very few choose to paddle there in a kayak or outrigger canoe. At Hawaiian Paddle Sports, experienced paddlers or cross-over athletes can reserve a spot on an outrigger canoe for the Molokini Outrigger Canoe Challenge, where they will be given a water safety and paddling orientation before heading out to Molokini in the early morning hours. At Maui Kayak Adventures, we also offer experienced paddlers or cross-over athletes the opportunity to kayak during our Molokini Paddle Challenge. All outrigger and kayak tours to Molokini are weather dependent. If you're looking for a challenge with a spectacular view, this is it.

Rappel down a Waterfall
For climbing enthusiasts looking for an adventure, or if you're ready to face your fear of heights head on, consider booking a Canyoneering Adventure Tour with the pros at Rappel Maui. Experienced guides will pick you up in Central Maui before heading out on the famous Hana Highway, where you'll gear up at a 26-acre botanical garden and hike along a valley trail before gearing up to practice your rappelling skills on a 60-foot jungle wall. You'll then rappel down a 50-foot waterfall into a natural pool before descending another 30-foot waterfall. Those looking for a more challenging experience can also sign up for an Introductory, Technical, Advanced and Canyon Rescue Canyoneering Course with master guide Dave Black.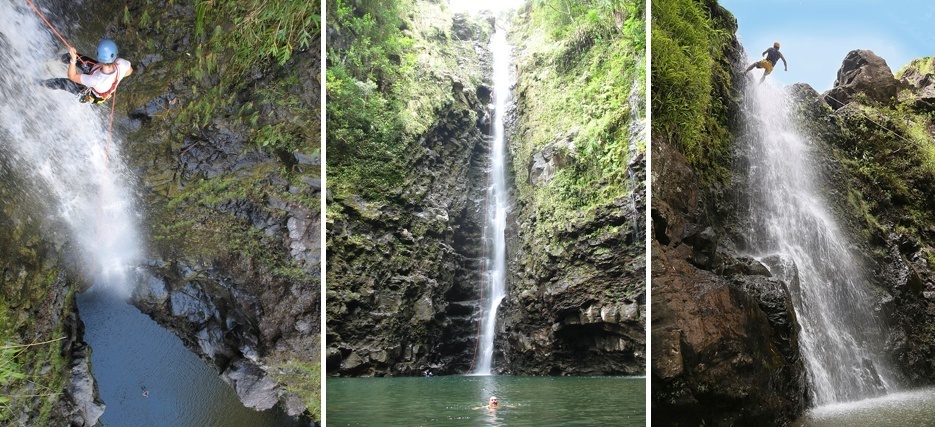 Bike Down the World's Largest Dormant Volcano
Maui is home to Haleakala Volcano, or House of the Sun, which towers 10,023 feet above sea level and is large enough to fit the entire island of Manhattan in its crater. Although technically still active, Haleakala hasn't experienced an eruption since 1790, where the remains of its last lava flow can be seen at La Perouse Bay. While driving through beautiful Upcountry Maui to reach the summit is an experience all its own, extreme travelers won't want to miss the opportunity to bike down the world's largest dormant volcano. On the Sunrise Special Tour with Haleakala Bike Company, visitors will be driven to the summit of Haleakala in time to watch the sunrise before heading back down to the base of Haleakala National Park at 6,500 feet for a 23 mile, self-guided, downhill bike ride that ends in Haiku. If you wish to bike down from the summit, you also have the option of renting equipment and doing it yourself, as commercial bike tour operations are no longer allowed within Haleakala National Park.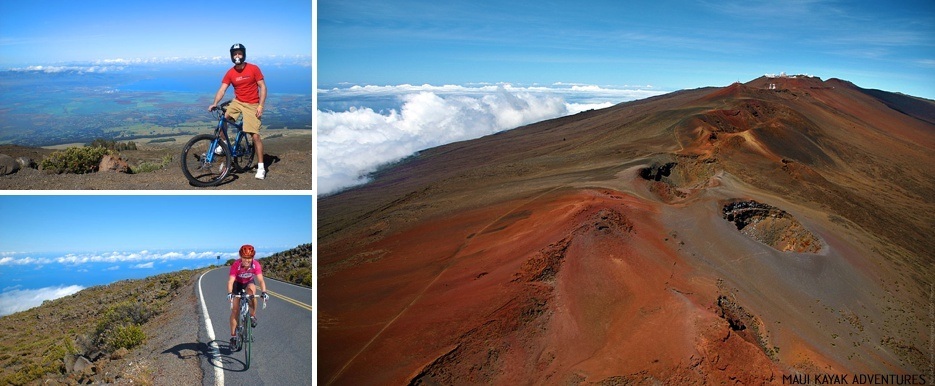 Hike one of Maui's Most Difficult Trails
For those of you who prefer to explore on foot, there are a number of hiking options on Maui that are well suited for extreme travelers. The Sliding Sands Trail, or Keoneheehee, begins at the summit of Haleakala before descending into the valley floor 2,800 feet below. Hikers can choose to stop at the Ka Lu'u o ka O'o cinder cone, located 2.5 miles into the trail, before heading back for the more strenuous uphill portion of the hike, or continue to Kapalaoa cabin (5.6 miles) for an overnight journey. If you choose to hike to the central valley or beyond, it's recommended that you take Halemau'u Trail back out of the valley.
For an even bigger challenge, consider the Kaupo Gap Trail, a nearly 20-mile hike from the summit of Haleakala down through the remote east side of Haleakala National Park to the coast of Kipahulu. For this hike, it's recommended that you spend the night at the Paliku cabin and campsite, located 10.4 miles from the summit of Haleakala where the trail begins. The difficult thing about this hike (besides all of it) is the fact that you end in one of the most remote areas of the island, so make sure you arrange a ride back from Kipahulu! Some people have even hiked up the Kaupo Gap, but make sure you know what you're getting yourself into before you choose this route. The majority of the hike is through rough areas with very little shade, so pack plenty of protective gear, sunscreen, and water.

Windsurf at the Premiere Wave Sailing Venue in the World
If windsurfing is your sport, welcome to paradise. Ho'okipa Beach Park, located on Maui's north shore on the Hana Highway, is known as the "windsurfing capital of the world" for good reason. Strong trade winds paired with a backdrop of mountains, beaches, and ocean cliffs bring in thousands of windsurfers from all over the world, and multiple world-class competitions are held here every year. For advanced and expert windsurfers, December through April brings the best conditions. For intermediate windsurfers, summer months are much more forgiving. While the launching point is shadowed from the winds, strong currents and swells cause waves to break within 100 yards. The area is also bordered by sharp rocks and reef, so ask a lifeguard for the best entry and exit points.
Scuba Dive with Sharks
The Maui Ocean Center attracts over half a million visitors annually with an impressive array of marine life exhibits, marine naturalist presentations, interactive displays and monthly events, but only a small group of those visitors take advantage of one of the coolest experiences at the aquarium, the Shark Dive Maui. Certified scuba divers hop into the 750,000-gallon Open Ocean exhibit, which holds a rotating variety of sharks found in Hawaiian waters, including tiger, hammerhead, whitetip, blacktip, grey reef, and sandbar, in addition to huge rays and thousands of other tropical reef fish, for a dive with world class photo ops.
Groups are limited to two divers plus an instructor to ensure you get the most out of your experience, and friends and family members are encouraged to come along to watch.

Experience Power Hang Gliding over the Hana Coast
Since hang gliding is often at the mercy of constantly changing weather conditions, the folks at Hang Gliding Maui introduced a new concept: Powered Hang Gliding flight instruction. With a two-way headset intercom system and tandem seating, think of it as a lesson in riding a "motorcycle in the sky". Experienced instructors teach students the basics of weight-shift control, aerodynamics and aviation safety and enjoy dual control from the front and rear seats. The Airborne trike has been tested for 6 G-forces positive and 3 G-forces negative, higher than most conventional airplanes, and has a 100% safety record. One of the best things about this lesson is the fact that it takes off from Hana, giving you amazing opportunities to enjoy aerial views of ocean cliffs, waterfalls, beaches, rainforest, rainbows, Haleakala crater, gulches, reef, and Hana's rugged coastline.
Hunt for Wild Pigs in the West Maui Mountains
Most people don't think about hunting when they think of Hawaii. However, hunting and spearfishing have been an integral part of Hawaiian culture for more than 200 years, and relying on the land and ocean for survival is a tradition that many continue to value today. Enter Lopaka's Aloha Adventures, where guests can experience Wild Pig Hunting in the West Maui Mountains. On each hunt, local guides take you to pristine, remote areas of Maui that most visitors never get the chance to see, tracking pigs using their knowledge of the land and assistance from highly trained dogs. Once cornered, you will have the option to either tag-and-release or harvest, perpetuating cultural tradition by using only a knife or spear. Guests must be at least 10 years of age, be able to walk 4 miles through the mountains and obtain a Hawaii State Hunting License.
Join a Spearfishing or Sport Fishing Outing
If you enjoy the thrill of hunting but prefer the ocean, consider joining a spearfishing or sport fishing outing. Maui Spearfishing Academy offers Spearfishing 101 for inexperienced guests to learn and practice the sport or a Spearfishing Outing for those with previous experience or returning guests. Improve your spearfishing skills and hunt invasive species like Roi (Peacock Grouper), Ta'ape (Bluestripe Snapper), To'au (Blacktail Snapper), Ulua (Giant Trevally) and Awa (Milkfish).
If you're more interested in catches like Mahimahi, Ono, and Tuna, join a group tour with Maui Fun Charters for sport and bottom fishing. You may get lucky and bring home dinner!
Whale Watch from a Kayak or Outrigger Canoe
Each year between the months of December and April, over 10,000 humpback whales swim from Alaska to Hawaii to birth and nurse their young in the warm, shallow waters surrounding the Hawaiian Islands. Maui enjoys its rank as the best whale watching spot in all of Hawaii due to the shallow channel that runs between Maui and the neighbor islands of Lanai, Molokai, and Kahoolawe. While boat tours are the most popular way to see whales up close and personal, we recommend whale watching from a kayak or outrigger canoe to enjoy on-level views of humpback whales, listen to the noise as they surface to breathe and enjoy the perks of a smaller group with no engine, no fumes and plenty of peace and quiet.
We recommend Hawaiian Paddle Sports for Whale Watch Outrigger Canoe Tours from Olowalu and Makena, and join us for a Maui Whale Watching Tour from a kayak.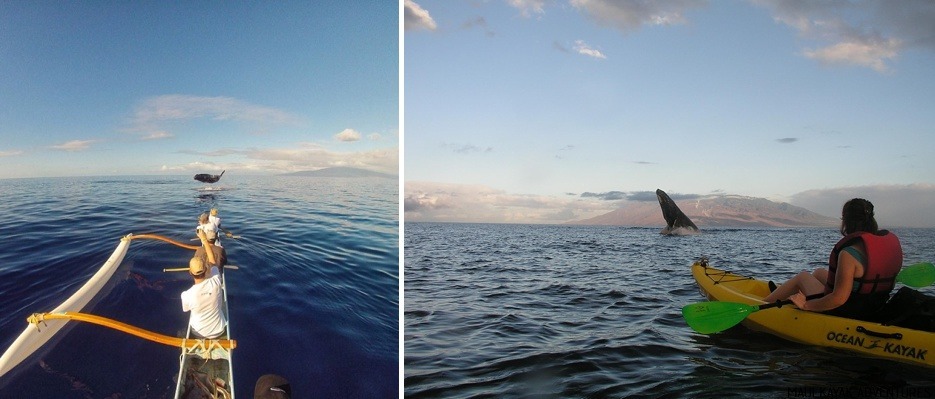 Get Deep with a Freediving Course
Freediving is the practice of diving on a single breath without the use of typical dive equipment. While freediving has become a worldwide competitive sport, it's also great practice for spearfishing, photography, and recreation. Single Breath offers excellent freediving and spearfishing instruction in Maui, including Freediving Instructors International (FII) Level 1 and Level 2 Classes, where participants learn the latest in freediving knowledge, modern safety, and methodology. All students must be at least 18 years of age and are required to bring a full wetsuit, timing device, weights, weight belt, mask, snorkel, and fins.
Zipline, Hike & Swim on the Hana Highway
Combine some of the best activities on Maui with Piiholo's Zipline/Waterfall Hike Combo, where you'll have the chance to race friends and family on 4 side-by-side zip lines, ranging from 480 to 1,065 feet long, before being led on a 1 to 2 mile hike through the rainforest with experienced Hike Maui guides to reach 2 waterfalls, where you can swim, frolic and celebrate to your heart's desire. No trip to Maui is complete without a little waterfall frolicking.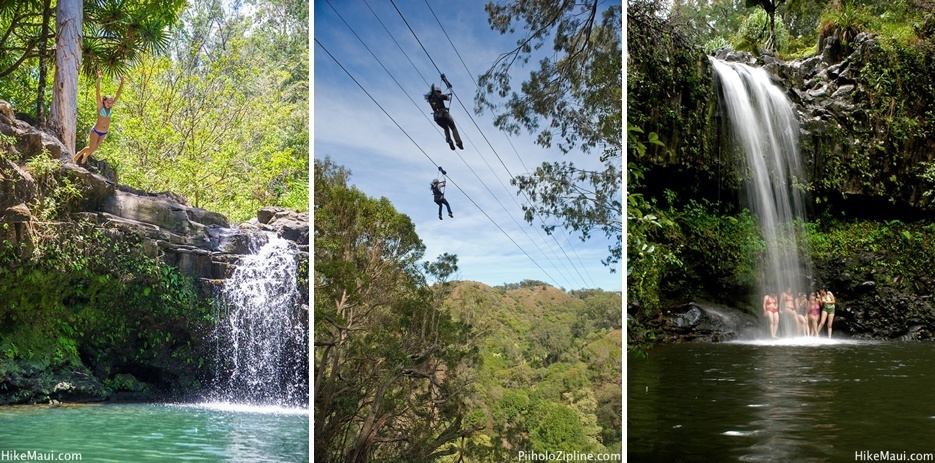 Mahalo for reading, and we hope your trip to Maui is the opposite of relaxing! But only if that's what you're looking for. What are your favorite extreme adventures on Maui? Let us know in the comments below!
Contact us
Maui Kayak Adventures
61 Halekuai St., Unit 2
Kihei, HI 96753
United States