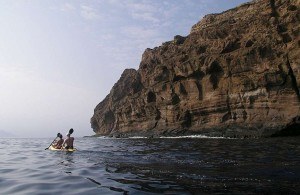 It is often thought that the first brave explorers to set sail on open ocean believed they might fall off the edge of the Earth. This, like many other ocean theories and legends, is simply not true. Covering a staggering 70% of the surface of the Earth and providing half of the air we breathe, most of the ocean remains a mystery to this day. As of 2000, National Oceanic and Atmospheric Administration (NOAA) estimated that as much as 99% of the ocean floor and 95% of the ocean has yet to be explored. With an average depth of 13,120 feet, the same height as peaks in the Alps and Rocky Mountains, only time and technology will tell what mysteries of the ocean are yet to be discovered.
Animals & Creatures
Many animals in the ocean have been documented as terrifying mysteries of the ocean "sea monsters." Most of these claims, as it turns out, have been cases of mistaken identity that were later identified as real creatures, while some are still largely regarded as hoaxes with no real scientific evidence of existence.
Giant Squid
The first account of an apparent giant squid occurred in 1848 by the HMS Daedulus off the coast of South Africa. After seeing what appeared to be a sea serpent with a "large head and shaggy main," they towed the creature back only to find out that it was actually a large piece of floating seaweed.
While the first account may have been false, rest assured that giant squids are real. These rarely-witnessed deep sea creatures can reportedly grow up to 60 feet long and have eyes that reach over 10 inches in diameter, around the size of a beach ball and 2 to 3 times the size of any other recorded animal. In 2004, researchers in Japan captured the first images of a living giant squid, and later in 2006, the National Science Museum of Japan caught and surfaced a live female giant squid measuring 24 feet in length. No live giant squid has ever been tagged and released for research, however, and their behavior still largely remains a mystery.
Oarfish
The first account of an oarfish occurred in 1860 in Bermuda when two men were gathering seaweed and found a serpent-like creature trapped on the rocky shore. After successfully killing it, a naturalist was later called in and identified the creature as an oarfish.
A real creature with eel-like features that measure up to 25 feet in length, the oarfish is the largest bony fish in the ocean. It is bright silver in color with red spikes running down the back of its body. They have shown habits of floating at the surface of the water when sick or dying, a possible reason for their "sea monster" and "sea serpent" legends of the past.
Frilled Shark
In 1800, Captain S.W. Hanna netted a deceased eel-like shark off the coast of Maine that reached 25 feet in length and only 10 inches wide. With a flat head and 3 pairs of gills (most sharks have 5), no deep sea frilled shark had ever been reported over 7 feet in length. Frequently referred to as the "New Harbor Sea Serpent" and real life Loch Ness Monster, the frilled shark is a living prehistoric species that hasn't changed much in millions of years. Due to its habitat thousands of feet beneath the ocean's surface, frilled sharks are rarely seen by humans. The last living report occurred in 2007 when a Japanese fisherman caught a 5 foot long frilled shark and transported it to the Awashima Marine Park, where it unfortunately died hours later. 
Basking Shark
After spotting a single-file line of basking sharks feeding on the surface of the water, reports of yet another "sea monster" began making its rounds. In 1977, a basking shark carcass discovered at the surface of the water was originally believed to be a pleisiosaur, or type of marine reptile in the Triassic Period, due to its relatively small skull in comparison to its long body.
Although many people are terrified by its appearance, basking sharks are harmless filter feeders that pose little to no threat to humans when unprovoked. The second largest fish in the ocean after the whale shark, basking sharks can reach up to 40 feet in length and weigh up to 8,000 pounds. In 1997, the U.S. National Marine Fisheries Service banned fishing of basking sharks in U.S. Federal Atlantic waters. Sadly, however, their population is estimated at a mere 20% of what it was only 60 years ago.
Saltwater Crocodile
Often found in rivers, estuaries and even open ocean, saltwater crocodiles have been around for 100 million years with little or no change in appearance. Called "salties" in Australia, these massive crocs are indeed real creatures that live in parts of the Indian Ocean and areas of Southeast Asia and Australia. Saltwater crocodiles can reach as long as 30 feet in length, weigh almost a ton and are the largest of all living reptiles. While the majority of mysterious ocean animals are rarely witnessed by humans and pose little threat due to their deep sea habitats, saltwater crocodiles have attacked and killed sharks, monkeys, wild boar, water buffalo, and even humans on many occasions.
Humpback Whales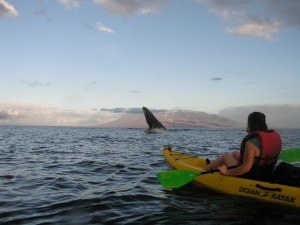 While researchers have discovered many interesting facts about humpback whales, including patterns of migration, feeding habits, reproduction, and general population estimates, certain whale behaviors remain one of the mysteries of the ocean. Both females and males can produce sounds, although males are the only ones that seem to produce songs with distinct melodies and patterns, but we still don't know exactly what they mean or why they're done. Another mystery is why humpback whales breach, a common behavior in which they propel themselves out of the water and prevalent sight during whale season in Maui. While some scientists think this is a way to rid unwanted parasites, others argue that it's done to scare off intruders or simply for fun. Whatever the reason, it's one of our favorite sights while whale watching from a kayak in Maui!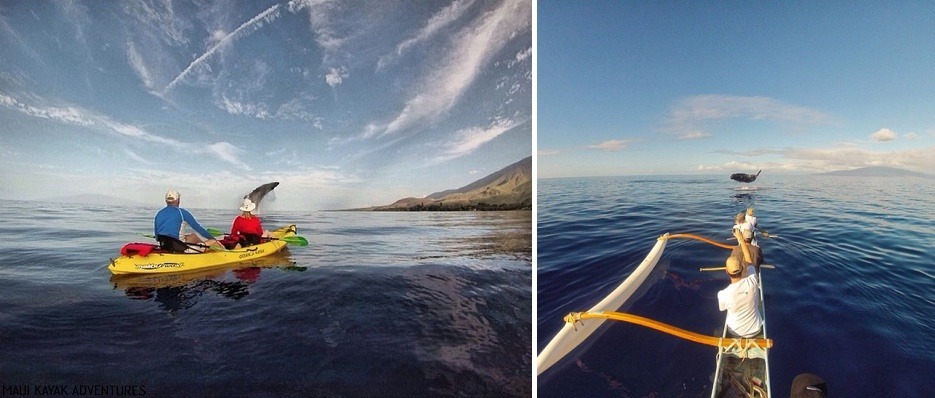 Common Hoaxes
Nantucket Sea Serpent – In 1817, reports that a fisherman witnessed a giant sea creature with a horned head made its way into the headlines. In 1937, a local fisherman reported seeing a "green sea monster" to the Nantucket Inquirer & Mirror, which was picked up by several other publications across the country. When a second fishermen seconded this story and the two found "giant web-footed tracks" in the sand, skeptics began questioning the story's validity. A few days later, the sea monster conveniently beached itself, and it turned out to be a giant inflatable balloon used simply as a publicity stunt for Nantucket. Designed by the puppeteer of the Macy's Thanksgiving Day Parade, the Nantucket Sea Serpent was visited by thousands of people and later even floated in the Thanksgiving Day Parade.
Megalodon – During Shark Week 2013, The Discovery Channel aired a documentary about Megalodon, the world's largest predatory shark that has been extinct for millions of years. They did not, however, mention that these animals are most definitely not around anymore and even went as far as to hire actors to play scientists, photoshop images and create fake digital video footage. It was condemned by many scientists and the director of the Blair Witch Project called it "the worst thing I've seen since the Blair Witch Project."
Mermaids – The earliest descriptions of mermaids date back to 8th century B.C., and although many people would like to believe they really exist, there has never been any scientific evidence to suggest mermaids are a real thing. The Discovery Channel and Animal Planet, however, continue to spur these theories, even going as far as creating a mockumentary called "Mermaids: The Body Found".
Lake Ontario Shark – Another in the growing list of falsities, a video titled "Shark in LAKE ONTARIO!!" was found to be a Discovery Channel hoax for Shark Week promotion. Using a "life-like prosthetic model shark," the video has since been criticized for perpetuating the public's fear of sharks.
Bermuda Triangle – The Bermuda Triangle is an area of the Atlantic Ocean between Bermuda, Miami and San Juan, Puerto Rico that is known for disappearances of planes and ships. However, after many studies on the subject, it was found that disappearances in the Bermuda Triangle are actually no more frequent than other well-traveled areas of the ocean. While theorists have blamed these accidents a number of things, including aliens, sea monsters, Atlantis, reverse gravity fields and time warps, the U.S. Coast Guard states "no extraordinary factors have ever been identified."
Legends
While Maui has its own set of interesting local legends, other cultures around the world have their own tales of ocean legends and mysteries.
Heracles Hydra Battle
In ancient Greek mythology, Heracles was sent to destroy a 9-headed water serpent that haunted the swamps of Lerna. For each head that was decapitated, however, she was said to grow 2 more in its place. With the help of his cousin Iolaus, he was able to brand the stumps with fire, also crushing a giant crab beneath his heel that was sent to assist the Hydra. The Hydra and Crab were then placed among the stars as Constellations Hydra and Cancer.
St. Paul Serpent Tongues
Before people could identify what items were commonly found on beaches and along the ocean floor, shark teeth were said to be serpent tongues turned into stone by St. Paul. Niels Stensen later correctly identified these items as fossilized shark teeth, named glossopetrae, or "tongue stones."
Columbus & The Bermuda Triangle
On Christopher Columbus' first voyage to the New World, he reported seeing a great flame of fire crash into the sea in the area now considered the Bermuda Triangle, most likely a meteor. He also wrote of erratic readings on his compass, which, at the time, was most likely seen while traveling through a sliver of the Bermuda Triangle that was one of the few places on Earth where true North and magnetic North lined up.
Natural Phenomenons
Milky Sea
In existence for over four centuries, the Milky Sea phenomenon is the milky glow of waters of the Indian Ocean due to bioluminescent bacterial action. In 1995, a British vessel claimed that it "appeared as though the ship was sailing over a field of snow or gliding over the clouds."
Bioluminescence
When chemical energy is converted to light energy, the result on a living organism is the production and emission of light, also known as bioluminescence. According to Science Daily, 90% of deep sea marine life is estimated to produce bioluminescence in one way or another. Often this is used as a defense mechanism and has been seen as blue, green, red and infrared light.
Red Tide
Scientifically known as "Harmful Algal Blooming", red tide occurs due to rapid growth or blooming of algae in the ocean. It is considered highly dangerous and can be fatal to birds, animals and even humans. One of the best known occurrences of red tide happens almost yearly along the Gulf Coast of Florida, but cases have been reported in every coastal U.S. state.
Ocean Crop Circles
Discovered under the waters of the Japanese island Anami Oshima, underwater crop circles have been said to be caused by aliens. Puffer fish, however, are the real cause behind these ocean phenomena, which can reach more than 6 feet wide and are often decorated with shells and other items found along the ocean floor. Puffer fish do this as part of their mating rituals, and from the look of it, have mastered the art of impressing the ladies.
Convergence of Baltic & North Seas
Seen in the province of Skagen in Denmark, the convergence of the Baltic and North Seas is due to differing density rates. This phenomenon is mentioned in the Holy Koran as "He released the two seas, meeting [side by side]… Between them is a barrier [so] neither of them transgresses."
Foaming Sea
When the ocean is constantly affected by wind and waves, foam forms on the surface of the water. Algal blooms and toxic waste dumping have been shown to cause extreme sea foaming, heightened by constant tidal action as it's churned up by the surf. While most sea foam is not harmful to humans, large concentrations can release harmful toxins into the air.
Steaming Black Sea
Often called "sea smoke," the Black Sea steams due to the humidity of the ocean water combining with the cool temperature of the wind on the surface of the water. While this is also common in smaller bodies of water, the Black Sea is a common occurrence of this phenomenon, which causes the appearance of a boiling ocean.
Brinicles
When concentrated salt water leaks from the frozen ice formed on the ocean surface and seeps into the depths, it can freeze and form into a brinicle. This often occurs in frozen waters around the North and South pole and has even been identified as a place where life can originate inside the icy compartment.
Baltic Sea Discovery
Discovered accidentally by the Ocean X diving team in 2011, this nearly 200 foot thick, circular anomaly sits 300 feet below the surface and remains unsolved to this day.
Deep Ocean
On March 26th, 2012, James Cameron, famous director of movies like Titanic and The Abyss, revisited the deepest part of the ocean for only the 2nd time in human history aboard the Deep Sea Challenger. The Mariana Trench, located in the Western Pacific Ocean, reaches a staggering depth of 36,200 feet and was previously only visited once by U.S. Navy Lt. Don Walsh and Swiss scientist Jacques Piccard aboard the Trieste in 1960.
We know less about the deepest points on Earth than we do about the surface of the planet Mars.
What mysteries of the ocean did we miss? Let us know in the comments below, and join us for a day of ocean kayaking to discover more about Maui and what makes it so unique!

Contact us
Maui Kayak Adventures
61 Halekuai St., Unit 2
Kihei, HI 96753
United States