Things to do on Maui in June
Once summer descends on Maui, there's absolutely no escaping the island's laid-back beach vibe. Embrace paradise by lounging on one of Maui's gorgeous beaches, or try your hand at the island's favorite pastime – surfing! June is especially excellent for ocean activities – from snorkeling at Honolua Bay to learning how to stand up paddle board in Makena. Film aficionados will delight in the chance to attend the Maui Film Festival, an annual event that you won't want to miss. No matter how you decide to spend your time, you'll be surrounded by breathtaking views and postcard perfect settings.
Must Do's in Maui this June
June on Maui means that summer is in full swing. Days are typically sunny, sunny, sunny, with a side of heavy trade winds. On average, Maui's trade winds blow about 80% of the time during the summer months, meaning that you should plan beach and ocean activities accordingly. To beat the wind, schedule water activities – like snorkeling, stand up paddle boarding, or surfing – for earlier in the morning (before 11 a.m.). Of course constant winds are also the reason why Maui is a world renowned mecca for windsurfers and kite boarders. Water temperatures hover in the low-80s.
Location

Haleakala (summit)

Kahului

Kapalua
Lahaina
Makena
Hana
June's Top Picks for Maui
Who hasn't dreamed of surfing? There's nothing like catching your first wave, and no better time to learn than on your Maui summer vacation. Warm water and a wide variety of beginner surf spots should put surf lessons at the top of your list. Maui Surf Lessons offers high quality private surf lessons. The best beginner surf can be found near Lahaina and Kihei.
While shark diving may not seem like the first choice for romance, what better way to bond than coming face-to-face with the ocean's most infamous inhabitants? You'll also be surrounded by hundreds of tropical fish and even stingrays in one of the world's best ocean centers. Participants must be certified divers. Visit Maui Ocean Center for more information.
Soar high above Maui's clear blue waters for the thrill of your vacation. In summer time, West Maui Parasailing and UFO Parasail both offer single, tandem, or even triple rides. Kids as young as 3 are allowed to ride, making this a fun experience for the whole family. Tours operate out of Lahaina and Kaanapali, and offer spectacular views of Maui and neighboring islands Lanai and Molokai.
There's no better way to kick off the lazy, beach days of summer than an ice cold Pina Colada. This simple yet tasty delight is courtesy of Old Lahaina Luau.
Ingredients
1.5  Ounce Light Rum
2 Ounce Coconut Syrup
2 Ounce Pineapple Juice
Instructions:
 Add all ingredients and ice into a blender.
 Blend and serve.
Kapalua Wine
&

Food Festival
Date(s): Thursday, June 8 – Sunday, June 11
Location: Kapalua Resort
Tickets: $100-$195 (*Full festival passes for 2017 are SOLD OUT)
Purchase Tickets: Online
Highlights: The longest running food and wine festival in the U.S., the Kapalua Wine & Food Festival is celebrating 36 years of culinary excellence. The event features cooking demonstrations, tasting seminars, and wine tasting events. Participants connect with top chefs and local talent, all the while surrounded by the island's tastiest delights and most stunning views. The decadent weekend also features Maui's distinctly local flavor with the Seafood Festival on Sunday, June 11 from 6-9 p.m.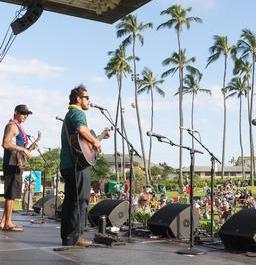 Ki Ho'alu (Slack Key) Guitar Festival
Date(s): Sunday, June 25
Location: Maui Arts and Cultural Center
Time: 1-7 p.m. (gates open at 12:30 p.m.)
Tickets: FREE
Highlights: Enjoy some of Hawaii's best slack key guitar players at the 26th annual, open-air Ki Ho'alu Guitar Festival. Dating back to the 19th century paniolo (Hawaiian cowboys), slack key guitar has since grown into one of the world's greatest acoustic guitar methods. Bring your lawn chairs or blankets and relax on the sprawling lawn for an afternoon featuring Hawaii's favorite musicians.
Date(s): Wednesday, June 21 – Sunday, June 25
Location: Wailea Gold & Emerald Golf Course, Maui Arts and Cultural Center, and Wailea area resorts (varies)
Tickets: $60-$265 (additional event options and VIP are extra)
Purchase Tickets: Online
Highlights: Locals and Hollywood starlets alike come together to enjoy a fantastic four-day event of the most entertaining, provocative, and culture-defining films of the year. The Celestial Cinema is a  particular crowd favorite, with an open-air venue that boasts double features each evening. The weekend kicks off with much acclaimed Taste of Summer opening party on Wednesday, June 21 from 5-7 p.m.  Local filmmakers and talent will light up the Celestial Cinema on Friday with the film "Kuleana." The Maui Film Festival is one of Maui's premier events, and you won't want to miss it!
Date(s): Saturday, June 3 – Sunday, June 4
Location: Oskie Rice Arena (Makawao)
Time: 9 a.m.-5 p.m.
Tickets: FREE
Highlights: Two FREE days of family fun in Upcountry Maui. The 2017 event will include everything from pony rides to bouncy castles and a 4-H Livestock Show and Auction. New this year is the 1st annual Vinha D'Alhos cook off. Celebrating Upcountry's distinctly paniolo ("cowboy") flair, there are also a host of rodeo activities and events. Enjoy live music, games, fun, and more!
King Kamehameha Day June 11th
This distinctly Hawaiian holiday celebrates King Kamehameha the Great, a celebrated chief and fierce warrior who is known for unifying the Hawaiian islands under a single rule. The largest King Kamehameha Day celebrations take place on Oahu where the 15 foot tall King Kamehameha statue is draped in flower lei over 30 feet long. On the outer islands, festivities – known as ho'olaule'a – are smaller in scale but still represent major local events. Maui's King Kamehameha Day celebration takes place on June 17-18 in Lahaina, the historic city that briefly served as Hawaii's capital under King Kamehameha's rule.
145th King Kamehameha Day Celebration
Date(s): Saturday, June 17 – Sunday, June 18
Time: 9 a.m.-5 p.m. (both days)
Location: Banyan Tree Park (Lahaina)
Highlights: This FREE community event is one of the biggest, local festivals of the year. Events begin with annual Pa'u Parade on June 17 at 9:45 a.m. Pa'u riders gracefully sit atop their horses and proceed down Lahaina's Front Street. The Pa'u Queen leads the way, followed by pa'u princesses – each of whom represent one of the 8 Hawaiian islands. Following the parade is a ho'olaule'a – better known as a block party – that runs until 5 p.m. on both evenings.
Wa'a Kiakahi Sailing Canoe Race
&

Events
Date(s): Friday, June 2 – Sunday, June 4
Location: Ka'anapali Beach Resort
Admission: FREE
Highlights: The 13th annual Wa'a Kiakahi festival celebrates the art and skill of sailing ancient Hawaiian canoes. Top canoe racers in both men's and women's divisions will compete for awards and prizes. Cultural activities and events for the public will take place throughout the weekend.
Date(s): Saturday, June 3 – Sunday, June 4
Location: Ka'anapali Beach Resort
Athlete Registration: Online
Highlights: This weekend event pits some of the top watermen and women against one another in a true showcase of athletic prowess. Sponsored by Maui Jim Sunglasses, competitors can opt for a number of individual races in both overall and age group categories. If you're not an athlete, you can have fun watching the races.
MAMo Wearable Arts Show at the MACC
Date: Saturday, June 17
Time: 6-10 p.m.
Location: Maui Arts & Cultural Center
Admission: Starting at $35
Highlights: This is NOT your typical fashion show! The MAMo Wearable Arts Show features native artists, cultural practitioners and designers with a focus on Maui county artists. Trunk show to follow in Morgado Hall. Hosted by local celebrities Vicky Holt Takamine and Robert Cazimero.
Hawaiian Music Concert Series in Lahaina
Date: Thursday, June 29
Time: 6 p.m.-7:30 p.m.
Location: Baldwin Home Museum Lawn (Lahaina)
Admission: FREE
Highlights: Kick back and relax at this FREE outdoor concert series featuring up and coming Hawaiian musicians. Don't forget your blankets and beach chairs! The series is sponsored by the Lahaina Restoration Foundation. Events are held on the 4th Thursday of every month.
Event
When
Where
Why You Should Go
Maui Friday Town Parties
Every Friday 6pm-9pm
June 2 Wailuku
June 9 Lahaina
June 16 Makawao
June 23 Kihei
June 30 Lana'i
FREE Family-friendly community block parties with live music, food, and fun
Maui Made Sundays
First Sunday of every month, 10am-5pm
Queen Kaahumanu Center, Kahului
Local vendors showcase their Hawaii wares and crafts. Includes live music.
Friday Night is Art Night
Every Friday
6:30pm-9:30pm
Lahaina
Gallery shows, artists demonstrations, music, food
Comments
comments