One of the greatest things about visiting the Hawaiian islands is the array of incredible ocean activities at your disposal, including scuba diving, snorkeling, outrigger canoeing, stand up paddle boarding, kayaking, body boarding, surfing and more. While some water sports require high energy and prior experience to really excel at, the great thing about snorkeling is that just about anyone can do it and it's a great way to experience the underwater life that makes Hawaii so unique. Maui is home to numerous great snorkeling spots, but we will delve into specifics about the best snorkeling spots around Maui to help make your next vacation an unforgettable adventure. We've compiled a list of the best snorkeling spots around Maui. Enjoy!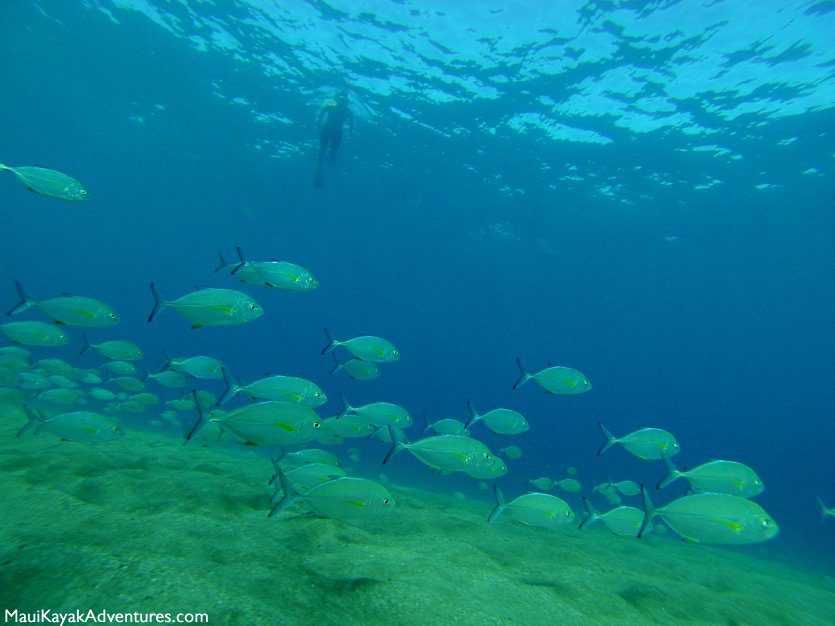 South Maui
Kihei
Kama'ole Beach Parks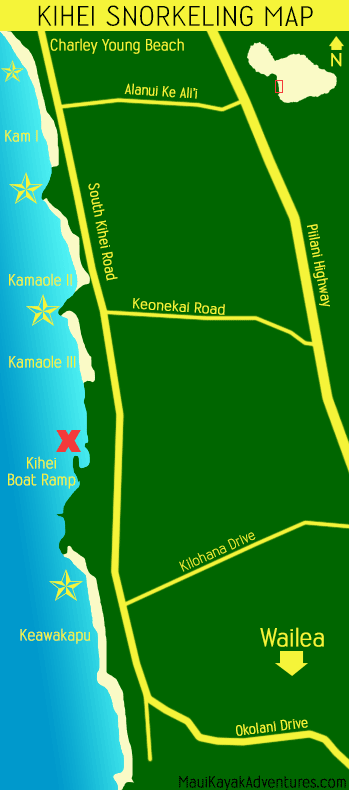 Charley Young Beach, located at the north end of Kama'ole I, offers convenient snorkeling for those of you looking for a quick and easy way to see fish, coral and turtles in South Maui. While the visibility can be low depending on weather conditions, this is a great spot for beginner snorkelers due to the calm, sandy beach entrance and close proximity to shore. In front of the Royal Mauian Condos between Kama'ole I and II, follow the rocky point out from shore for an easy, shallow snorkel with lots of turtles. Once again, visibility can be low depending on weather conditions, but this is a great starting point for a quick swim. Between Kama'ole II and III, snorkel out to the rocky point for views of amazing corals, lots of fish and turtles. At the southern end of Kama'ole Beach Park III, there is a large rock that you can swim past that offers excellent underwater views and is usually less crowded than some of the other spots in Kihei. Just remember to turn around before you reach the Kihei Boat Ramp! Local Tip: All 3 Kama'ole Beach Parks offer lifeguard stations, picnic areas and restroom and shower facilities. These are great beaches to bring the whole family or meeting friends, watching the sunset and barbecuing. 
Keawakapu Beach
Located at the very end of South Kihei Road, head to the northernmost point of this beach and swim out and around toward the south end, which offers better snorkeling but a rough, rocky entrance, and one of the best snorkeling spots around Maui. Enjoy excellent snorkeling views of channels, coves, many varieties of fish and large coral heads. Local Tip: There are two entrances to this beach, the first at a parking lot on the right just before Maui Oceanfront Inn, the other at the very end of South Kihei Road with a separate parking lot. Showers are available at both entrances. 
Wailea
Ulua Beach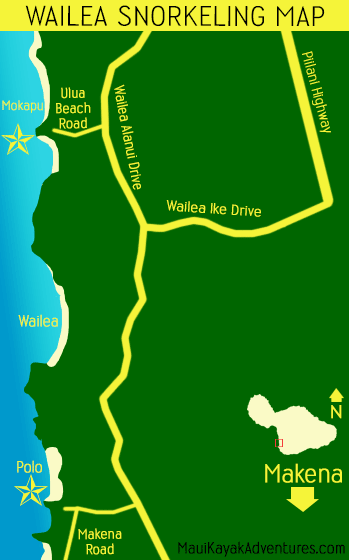 This beautiful Maui beach, located in front of the Wailea Elua Village Condos, offers better clarity as well as more corals and fish than some of the other beaches, particularly when you swim out from the southern end of the beach at the point between Mokapu Beach and Ulua Beach. The entrance can be rocky, so consider wearing protective footwear or paying extra close attention when entering. Local Tip: Follow the green signs from Wailea Alanui Road and turn right onto Halealii Place. Restroom and shower facilities are available at the roundabout. Watch the sunset and enjoy fresh sushi from the nearby Morimoto Maui restaurant at the Andaz Maui Resort for a post-snorkel treat.
Polo Beach
Located in front of the Fairmont Kea Lani and the Polo Beach Club, snorkeling here is often uncrowded and offers nice views of corals, many smaller fish species and turtles making it one of the best snorkeling spots around Maui. While visibility can be low, this is a great spot for a less crowded snorkeling experience if you're staying in Wailea. Snorkeling is often best at the southern end of the beach. Local Tip: Facilities here are excellent, including a nice restroom, showers, barbecue grills, picnic tables and grassy lawn. Great place to spend the afternoon enjoying the outdoors.
Makena
Palauea Beach

Also known as "White Rock", this beautiful South Maui spot offers great snorkeling from the rocky points jutting out from both ends of the beach. Depending on the waves, visibility can be excellent or poor, but there are typically tons of turtles as well as interesting coral, reef and rock formations. Local Tip: Ignore signs that say Keep Out and follow the dirt paths that are well worn. This is a local favorite and is a great place to hang a hammock! Porta-potties are available on the street.
Po'olenalena Beach
By accessing this beach through Makena Surf Condos, snorkeling is best here on the south end around the large rocky point, where you'll find an assortment of beautiful corals, finger reefs, tropical fish and turtles. You can even swim toward Chang's Beach to the south, where you'll see a 40 foot underwater wall with caves, corals and lots of fish. Local Tip: There are two public entrances to this beach. Parking at the north lot is much larger and is marked with a green sign that says Po'olenalena Park. If parking at the south lot, look for a blue sign that says Shoreline Access with the number 104 and follow the path down through the gate. Shower is available at south lot, porta-potties available at north lot. 
Chang's Beach
Although this beach is very small, it offers great snorkeling. If you're a confident swimmer, swim a little south to a popular spot called Five Caves/Five Graves to visit the well known hangout spot for turtles as well as colorful corals and reef formations. Local Tip: When the tide is up, the beach nearly disappears. Small parking lot available, but there are no facilities. Look for a brown sign that says This is a Public Access Walkway.
Five Caves aka "Five Graves"
If you're comfortable in the water and have snorkeling experience, we highly recommend Five Caves. This is a slightly difficult entry from shore, with rocks and strong surges depending on the time of day, so be careful when entering and exiting the water at this location. Swim out from Chang's Beach if you're worried about the conditions. There is a rocky entrance to the right that's best for hopping in the water, and you'll likely see a ton of turtles near the surface and, as you may have guessed, in the caves surrounding this area. Reef sharks can also be seen hanging out in the caves. The waves tend to pick up in the afternoon, so we recommend heading here early for the best results. Read more about our private Kayak & Snorkel Tours to Makena's Turtle Town. Local Tip: This area is nicknamed Five Graves for the five adjacent graves on the path to the water. This area is also commonly referred to as Turtle Town and a popular spot for boat tours, kayakers and snorkelers. Make the first right on Makena Road, park in the dirt lot on your left and cross the street to follow the path. 
Maluaka Beach
Located directly in front of the Makena Beach & Golf Resort, Maluaka Beach offers fairly shallow, easy snorkeling at both ends. Follow the rocky point out and enjoy views of coral formations, large turtles and sea urchins once you get into deeper water. We have found that the coral on the south end of the beach is slightly better, and visibility can be low depending on the weather and crowd. Local Tip: Parking is available in the lot across from Keawala'i Church or in the public lot accessed by making a right at the last Makena Road. Restroom and shower facilities are available at both entrances. 
Oneuli Beach
Also known as South Maui's Black Sand Beach, Oneuli is a great place to snorkel for a secluded, more intimate experience. The entrance is rocky and sea urchins are located in shallow water, so we definitely recommend wearing protective footwear and swimming out slowly and carefully. Swim straight out from the beach to see beautiful corals and head to the point on the left to see turtles and a small number of fish. Visibility is usually good here depending on weather conditions. Local Tip: Look for a dirt road with signs that say Makena State Park and turn right. Go slowly and avoid the large potholes. No facilities available. After your snorkel, make a trip down the road to Big Beach for great swimming, excellent scenery and beach lounging!
'Ahihi Bay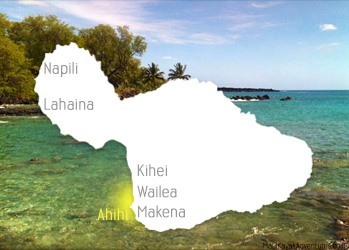 Located in the 'Ahihi-Kina'u Natural Area Reserve and surrounded by beautiful lava rock at the southernmost driving point of Maui, 'Ahihi is a great snorkeling location when conditions are calm. The area is fairly shallow, but be cautious of currents and wind, which tend to pick up in the early afternoon hours. Head straight out from the entrance before veering right toward 'Ahihi Cove, where you'll find large underwater boulders, canyons, turtles, corals and a huge number of fish. Beware of the rocky entrance. Local Tip: La Perouse Bay is a favorite resting spot for Hawaiian Spinner Dolphins. See you if you can spot them! This is also a great area for sunset horseback rides with Makena Stables.
West Maui
Olowalu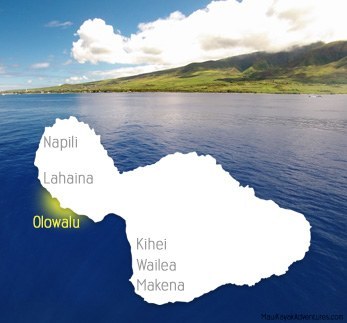 Located about 4 miles south of Lahaina, pull over at Mile Marker 14 to reach Olowalu, an excellent area for Maui snorkeling. Since Olowalu is more protected from other areas on the island, the wind will not affect snorkeling here, making it a great place to go when other spots are too wind-blown to enjoy. Here you'll find over 100 acres of ancient reef structures, many turtles, tropical fish and high visibility. Swim out to deeper water to enjoy the best views, and wear shoes on your walk out to avoid stepping on painful Kiawe thorns. Read more about our private Kayak & Snorkel Tour to Olowalu's Turtle Garden. Local Tip: Head to Leoda's Pie Shop across the street for delicious homemade pies and comfort food after your snorkel. Thank us later. 
Ka'anapali
Hanakao'o Beach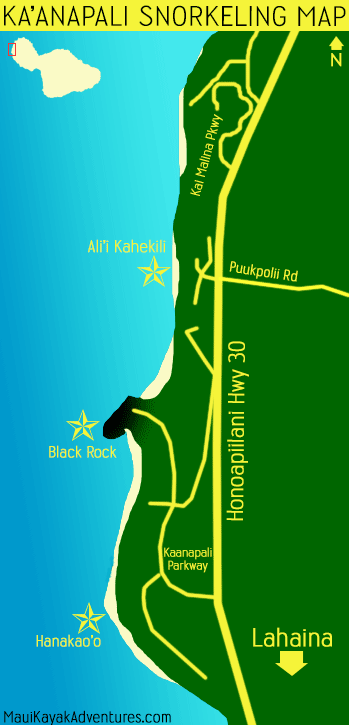 A short walk from the Hyatt Regency Maui Resort & Spa on the side of the highway, swim toward the south side along the rocky shore, where you'll find great snorkeling views of giant coral fields. Shallow, easy snorkeling, and great for all ages. Local Tip: This beach has a lifeguard station. Look for Mile Marker #23 and a green sign and park in the lot to the left of the entrance. Full restroom and shower facilities are available as well as covered picnic tables, shady and grassy areas for relaxing.
Black Rock
Also known as Ka'anapali Beach, Black Rock is a great place to snorkel, offering high visibility, larger fish species, beautiful coral formations and even Spotted Eagle Rays on occasion. Snorkel around the rocky tip and enjoy stunning views of West Maui. Can be crowded, but still a great spot. Local Tip: This area is considered a Hawaiian historic area. No facilities available unless you're staying at one of the beachfront resorts. Great place for cliff jumping and diving!
Ali'i Kahekili Beach aka "Airport Beach"
Located in front of the Westin Ka'anapli Ocean Resort Villas, Airport Beach is great for snorkeling. Head straight out from the pavilion and be treated to spectacular underwater views of fish, turtles and coral formations. Usually less crowded than some other West side locations and visibility is dependent on weather conditions. Local Tip: Great area for picnicking with friends and family. Full restroom and shower facilities available along with a pavilion, picnic tables, barbecue pits, grass field and plenty of shade.
Napili
Napili Beach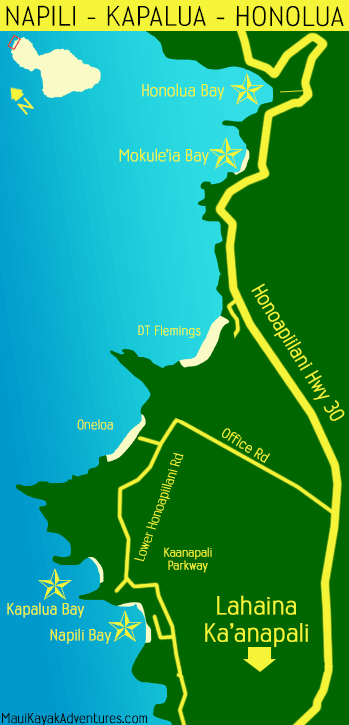 One of the most beautiful beaches on Maui, Napili Beach always draws a crowd. Get here early in the morning for the best snorkeling, which offers little in the way of reef and coral but tons of fish. The visibility can be low due to the crowds and wind, but this is a great place to lounge on a gorgeous beach and go for an easy snorkel on calm weather days. Local Tip: Street parking is available and there are showers at both public entrances. Grab breakfast or lunch at the Sea House Restaurant on the north side of the beach for a beautiful view and delicious meal. 
Kapalua
Kapalua Beach
A little north of Napili Beach, Kapalua Beach is usually more protected from strong trade winds, offering nice snorkeling views of large coral heads. The right side of the beach is best for snorkeling, and we recommend not going out past the point due to strong currents. Local Tip: Much like Napili Beach, Kapalua Beach is usually crowded due to the large number of condo rentals directly behind. Get here early to find parking. Restrooms and showers available.
Mokule'ia Bay aka "Slaughterhouse Beach"
Named for the long since shut down nearby slaughterhouses, don't let the name scare you off. Approximately a 20 minute drive north of Lahaina and part of the Honolua-Mokule'ia Bay Marine Life Conservation District, this area offers great snorkeling on calmer weather days. Head toward the right side, where you'll find lots of big fish and beautiful underwater views. Local Tip: Snorkeling here is highly dependent on the weather and is sometimes too rough to go out. This is also a popular spot for body surfing. Give it a try!
Honolua Bay
Located on the other side of the hill from Slaughterhouse Beach, Honolua Bay is a local favorite for surfers and water enthusiasts. Take the scenic drive north through Kapalua's winding roads and arrive at Honolua Bay, where you'll enjoy a short hike through forest and enter the water along the rocky entrance toward the right. There is no beach here, and the family who owns the property between the road and the Bay kindly allow visitors on their property as long as you follow a few simple rules: no sunscreen (causes coral damage), no dogs, and no touching corals. We recommend donating a few dollars to the family if you plan on snorkeling here, which is well worth the drive and offers unforgettable Maui scenery. Enjoy schools of fish, coral heads, and follow the boat tours who come to this location if you have any questions about the best area to snorkel. Read more about our private Kayak & Snorkel Tour to Honolua Marine Preserve. Local Tip: When the conditions are right, this is an excellent spot to watch big wave surfers!
Molokini Crater
Located 2 miles of off Maui's South shore and drawing thousands of visitors each year, Molokini Crater is accessibly by boat, or for a more fun and challenging experience, one of our private kayak tours, which offer a much less crowded and more enjoyable snorkeling experience. Now a Marine Life Conservation District and Bird Sanctuary, Molokini offers the best visibility on Maui, reaching upwards of 180 feet on good days. Lots of tropical fish congregate here, and snorkeling and scuba divers return time after time for the unforgettable underwater conditions and beauty. While few tours bring visitors to the back side of the crater, if weather permits, snorkeling here is also fantastic. Read more about our private Kayak Paddle Challenge & Snorkel Tour to Molokini Crater. Local Tip: While boat tours are the most popular choice, make sure to choose one that gets you there early in the morning before most others arrive. Much better experience when you can enjoy it (mostly) to yourself. Kayaking here is a great way to avoid the crowds, but be prepared for a hearty paddle!     Whether you dive in from shore, boat, kayak or stand up paddle board, you deserve to experience incredible snorkeling on one of the most beautiful and diverse islands in the world. Our mission is to bring the beauty of Maui and spirit of adventure to as many people as possible, and we hope you'll consider taking a private Kayak & Snorkel Tour with us on your next trip to paradise. Mahalo for reading, and happy snorkeling!
Do you have suggestions for our Maui snorkeling maps?
We can use your help!  Please add any Maui snorkeling suggestions in the comments below to make our maps better!
Contact us
Maui Kayak Adventures
61 Halekuai St., Unit 2
Kihei, HI 96753
United States