Kayaking in Maui | Best Locations
There are quite a few ways to see the beauty of the island, but not many can compete with kayaking in Maui over the aqua water, floating alongside spinner dolphins and giant Hawaiian sea turtles.  Whether this is your first time visiting the island or you call Maui home, this list of best locations to kayak will float your boat!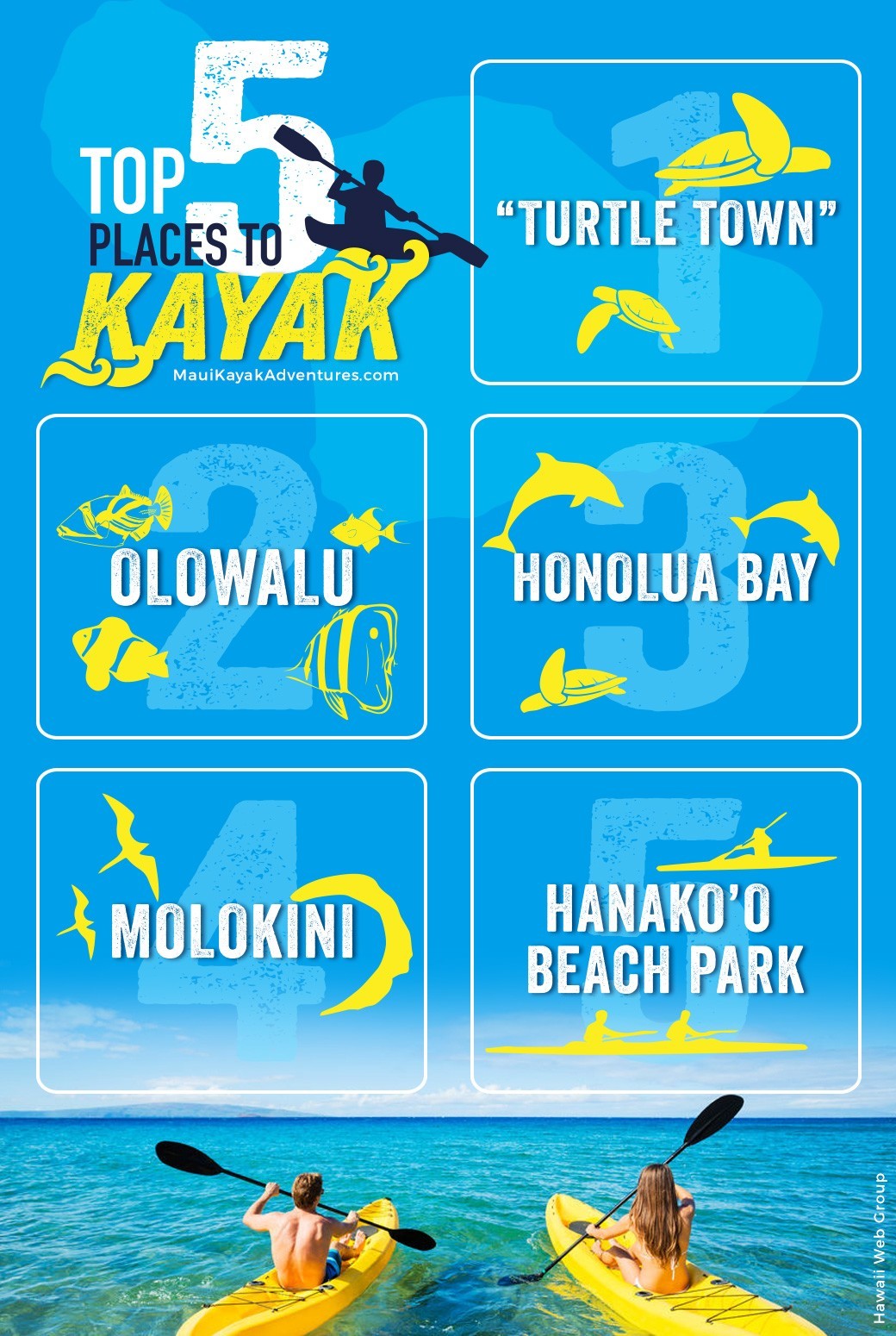 Early morning is the name of the game here. The sun shines, the wind plays nicely and you'll want kayak to the reefs and snorkel before all the big boat tours take over.  Of course, the cooperative weather is only a small part of this locations charm.  As the name suggests, dozens of sea turtles putter about the reef, and there is nothing quite like paddling alongside one of these kind creatures.  Another great reason to kayak in Turtle Town is its proximity to the resorts of Wailea, including Makena Beach & Golf Resort, Grand Wailea, Andaz Maui, and the Four Seasons.  Make sure to have your camera ready, because Turtle Town is one of the best kayaking spots!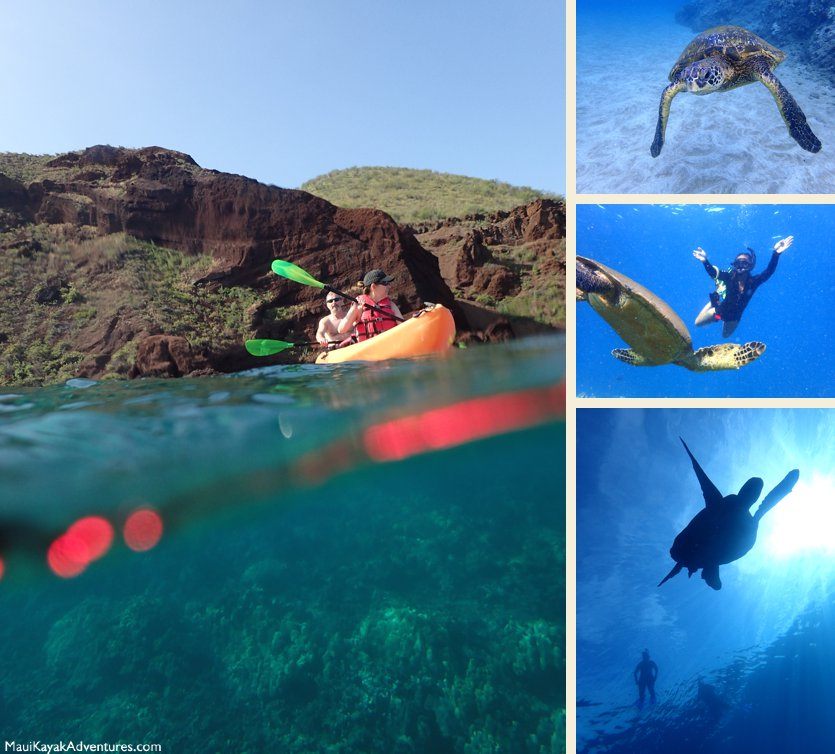 *This Kayaking in Maui tour is great for those looking for an early morning adventure.  The winds are mellow, the tour is easy and you don't have to be a professional to get out there and have some fun!
*This tour is not for those who are looking to train for the Ironman Challenge.  While beautiful and fun, this won't give you an adrenaline rush.  Scroll down further if you're looking to push the limits!
Home to one of the most unique ocean reef systems in Hawaii, Olowalu houses hundreds of large coral heads, which draw quite a bit of marine life to it.  Schools of tropical fish will flank either side of your kayak at any time.  Most noteworthy for this location is the turtle cleaning station.  It's kind of like an underwater car wash for the turtles. The turtles head over to a section of the reef where fish like Tangs, Sturgeons and Wrasse clean the algae off their shells and flippers. Kayaking at Olowalu is easiest with a guide, as there are quite a few shallow reefs and only a few unmarked channels to get through.  From December through April, Olowalu is great for whale watching from a kayak!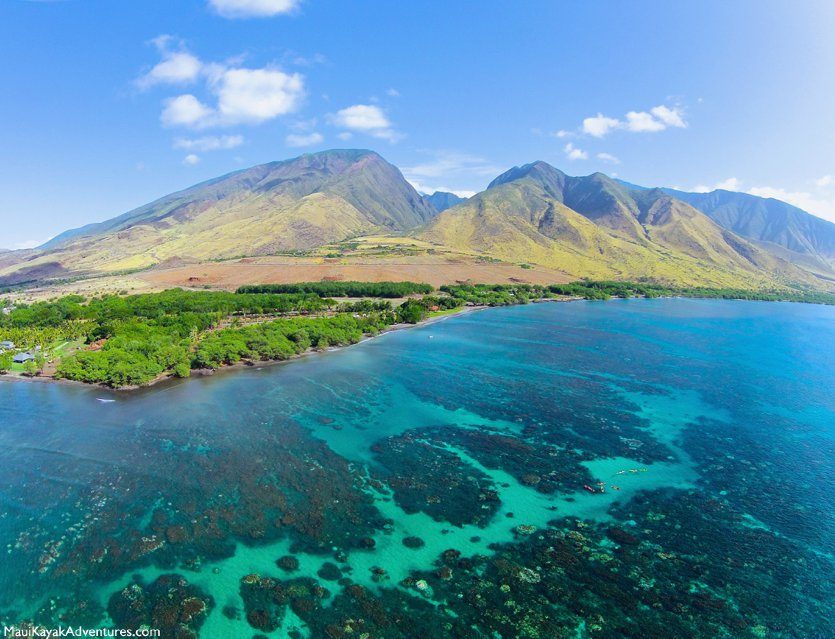 *This tour is great for those who have kayaked before and have a little muscle behind the paddling.  Because of the strong winds, make sure you're comfortable in the water.
*This tour is not for those with small children, companions that don't want to paddle or someone who hasn't spent much time in the ocean. Check out the tour above if these describe you!
This stunning coastline of Kapalua is easy to fall in love with, with the vivid marine life, the crystal clear waters and the spinner dolphins that frequent this spot. Protected by the State, this well-kept area is overflowing with marine life and vibrant coral. Honolua Bay's beauty will take your breath away! Honolua Bay Kayaking Tours are only offered in the summer months, as the winter months bring about high winds and big surf.

*This is great for those able to fight the occasional strong wind.  Definitely doable, and worth the effort if you're comfortable in a kayak and the ocean.
*This tour is not for those under the age of 12 or anyone looking for a leisurely paddle on calm waters.
Most everyone with snorkeling on their agenda has heard about Molokini.  This volcanic atoll is protected as a State Marine Life & Bird Sanctuary, which means pristine visibility up to 100 feet!  Now, most people take a boat over to Molokini, which is fine.  But if you like the feel of adrenaline at 6:00 am, you might consider kayaking the Molokini Challenge.  There is nothing quite like channeling the strength of ancient Hawaiians who paddled these waters for basic transportation and fishing purposes.
*This tour is great for crossover athletes or very experienced paddlers.  You're going to have to work for it, but we promise it is so worth it!  And you absolutely must go with a knowledgeable and skilled kayak guide.
*This tour is not for anyone under the age of 16.
5. Kayaking at Hanakao'o Beach Park
Kayaking in Hanako'o  is a winner for its easy accessibility and its flawless launching from the white sand beach.  It's a more remote spot, popular with locals, who have nicknamed the area as Canoe Beach.  You won't find as many tourist, as this spot is used more by locals looking to stretch their kayaking legs.
*This spot is great for those looking for a mellow and fun kayak trip.
*This spot is not for those looking to pow wow and socialize.  We don't offer a tour here, so always exercise caution while out on the water.  And always bring a buddy with you.
We want everyone to have an epic time paddling and there are a few helpful tips that will keep everyone happy, both above and below the water.
Tips for a great kayaking in Maui  experience:
1.  Be honest about your level of experience:  There are tours for everyone, ranging from first timers to world champions.  Make sure you find a tour that fits your comfort level so that you can maximize your enjoyment.  And if you're having a hard time deciding, ask us about kayaking tours in Maui.  We've been at this a long time and our expertise will come in handy!
2.  Leave the hangover for land activities   We get it.  You're on vacation and want to let loose!  While no one wants to stand in the way of you and a really good time, kayaking early in the morning after a few too many Mai Tais might not be the best way to go.  Try and get some sleep and hydrate so you are in your best form for an awesome adventure!
3.  Waterproof your valuables:  Want to get some out-of-this-world pictures?  If you are thinking about bringing your own camera or phone make sure it is waterproof.  Using your unprotected phone to take an epic picture of a whale tail while kayaking has heartbreaking potential to slip into the deep blue, never to be found again.  Better yet, let the guide take the photos and send you a link to the photos, all for FREE and included in your tour.  And make sure your car keys are safely secured somewhere.   The turtles aren't great at playing fetch!
4.  Make sure your sunscreen is ocean-friendly:  Not many people are aware that your sunscreen could be killing the coral.  Many chemicals in sunscreen bleach the coral, which kills it.  And so much of the marine life rely on that coral.  Ask about purchasing a reef-safe sunscreen that is eco-friendly to apply before your kayak trip.  That way, neither you nor the coral won't fry!
5.  Bring your game face:  Each day is different in Maui, and it comes with wind, rain or sun.  Going with the flow will allow everyone to have a great time.  And then you can say you truly experienced an adventure!  Because the winds and surf change so quickly, having a knowledgable kayak guide is the safest way to go.

Contact us
Maui Kayak Adventures
61 Halekuai St., Unit 2
Kihei, HI 96753
United States