Whale Watching in Maui.  Kayak with Humpback Whales 
Whale Watching in Maui gives you the chance to get close to some of the world's most majestic, and mysterious creatures: Humpback Whales. In the winter season, thousands of humpback whales, or Kohola, make the trip to Maui to mate and give birth in our shallow, protected waters. This makes Maui one of the best places in the world for whale watching and one of the top 10 things to do in Maui.  December through April, join us for one of the most unforgettable of Maui activities.
Add a Maui Whale Watching Tour to Your "Things to Do in Maui" List
The ocean surrounding Maui is our premier attraction, and we're ready to get you out there.  On a self powered kayak you'll get closer to the action and see humpback whales from a new perspective.  Our guides are great at spotting humpback whales when they come to the surface to breath.  Once we find a pod you'll have plenty of time to take photos and watch them in their natural environment without disturbing them with engine noise.  While your sitting at the beach after  whale watching in Maui, you'll have great stories to tell and  see whales everywhere you look after being trained in the art of whale watching by our Top Maui Guides!
Whale Watching in Maui Tops Natural Maui Activities for Families
Maui offers ample opportunities to enjoy the natural beauty of Hawaii; hiking, beaches, snorkeling, stunning sunsets and sunrises… but few Maui activities bring families together better than seeing humpback whales from a kayak, right on their level. Imagine the thrill of seeing a humpback whale breaching within a few hundred yards of your kayak, or simply hearing their calm shallow breath with no other background noise.  Whale watching in Maui is truly a life-changing experience. Just read a review or two on Trip Advisor or Yelp to see what other couples and families with kids have to say about our whale watching tours.
What to Expect on Our Whale Watching Tours
When you book one of our whale watching Maui tours, you'll be able to choose whether to paddle out from Lahaina, Olowalu, Kihei,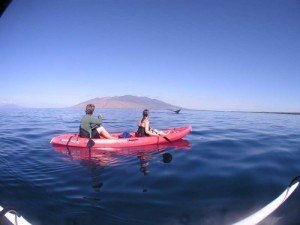 Wailea or Makena.  Your kayak guide will share knowledge about the humpback whales and Maui as you paddle alongside. We typically see several pods of  Humpback Whales on our tours and if we get lucky we'll see a competition pod!  Enjoy peck slaps, fluke slaps, breaching, spy hops and lots of 'spouts' when they come to the surface to breath.  If there's time, we will end the trip with a visit to our favorite snorkeling reefs, where you can snorkel with green sea turtles.
If you are visiting Maui and staying in Maalaea, Kihei, Wailea, Kaanapali, Napili, Wailea, Kapalua, Makena, Lahaina or Olowalu, call Maui Kayak Adventures to schedule your whale watching Maui tour. This is a once-in-a-lifetime experience, so don't wait to schedule your whale watching Maui tour with us!