Kayak Olowalu | West Maui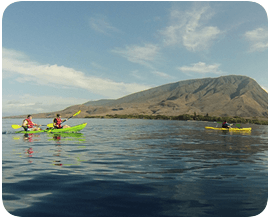 Kayaking at Olowalu beneath the back drop of Mauna Ka Halawai, or West Maui Mountains as they are commonly referred is a great choice year round. Enjoy views of Haleakala, Molokini Crater, Kahoolawe, Lanai, Molokai and Hawaii (Big Island) on a clear day!! Enjoy secluded whale watching, away from the large whale watch tour boats and BIG group kayak companies swarming Makena and Wailea, during our winter months of December through April.
The rest of the year Olowalu Reef, or "Mile marker 14" as its sometimes known by visitors who are told to look for the marker to pull off the highway and snorkel, offers incredible snorkeling and is home to some of Hawaii's healthiest reef system. A turtle cleaning station is frequently visited by Green Hawaiian Sea Turtles looking to have their shells cleaned by the tropical fish and cleaner shrimp in the area. Large schools and a variety of colorful reef fish make this one of Maui's visitors favorite place to snorkel.
During the peak summer months, and high trade wind days, Olowalu can be very windy creating unsafe paddling conditions. Please check with our staff to see if Olowalu is suitable choice for your kayak tour while you're visiting Maui!
Kayak Makena | South Maui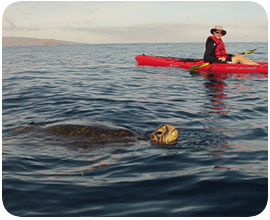 In the heart of Makena is the iconic "Turtle Town"! As you can gather from the name this area, on Maui's southern shore, is very populated with Green Hawaiian Sea Turtles. However, Turtle Town is not one reef, its a several mile long stretch of ocean that encompasses more than a dozen reefs and snorkel spots. Most of the LARGE snorkel boats go to the same two reefs in Turtle Town, and we'll definitely keep you away from them!
On a kayak snorkel tour in Turtle Town your guide has flexibility to take you as far or close as you want to paddle to see Green Hawaiian Sea Turtles.
During our winter months, December through April, the calm waters off of Wailea make this a great option for whale watching. Enjoy beautiful views of Haleakala, Puu Olai, Molokini Crater, Lanai, Mauna Ka Halawai (West Maui Mountains) and Hawaii (the Big Island) on a clear day. Not to mention a new perspective of South Maui's famed resort area of Wailea and Makena.
Honolua Marine Preserve | North West Maui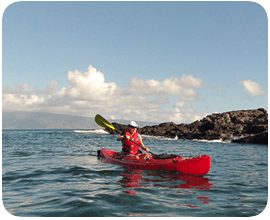 Kayaking in Kapalua on Maui's upper west side is like taking a step back in time to old Hawaii. We leave from Honokahua beach, commonly knowns as DT Flemmings, in front of the Ritz Carlton Kapalua. Limited development and the recent preservation of coastal land has left the rugged coastline of Kapalua nearly untouched. As you enjoy a strong paddle through headwinds to Mokuleia Beach and bay, commonly known as Slaughter House, you'll find sea turtles popping up along the way to warm their shell in the sun or eating algae from the lava rock outcroppings.
Spinner dolphins also sometimes join us for our paddle around the corner to Honolua Bay, translated as "Two Bays", which was designated as a Marine Life Conservation District in 1978. Enjoy an abundance of tropical fish while snorkeling in these protected bays, tucked away from the wind. Speaking of the wind, we won't shy away from the fact that this isn't the ideal location for everyone.A strong head wind makes for a challenging paddle to Honolua Bay, but if you can make it there you'll definitely be rewarded with a marine life along the way and while snorkeling.
The raw-ness of Kapalua is where its charm and beauty lay, as the saying goes… "no rain, no rainbows". So if you're looking for calm, sunny conditions, please talk with us about one of our other locations. Offered in the summer months of June, July and August only.
Maui's Best Whale Whale Watching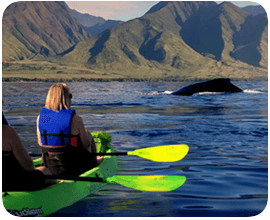 Everyone knows that when it comes to the best whale watching in the world Maui is on top of the list. However, fortunately for you only a select few know the best way to get you there is on a self powered kayak! No engine or crowd noise, no diesel fumes…. just you, the swoosh of your paddle through the water and the Humpback Whales! There just isn't a comparable experience to seeing a humpback whale up close and personal on an ocean kayak. Sometimes you can even hear their singing echoing through the hull of your kayak. Our knowledgeable staff can guide you in the right direction, based on current weather and whale sightings, for the best location of your kayak whale watch adventure.Our passionate ocean guides are marine naturalist certified and have a ton (pun intended) of information to share with you about Humpback whale migration, population, behaviors and more.
Booking a private kayak tour over a group tour allows you to call the shots and not worry about other guests agendas. Whale Watching Kayak Tours are offered December through April but check with our team to see if there is chance to catch a whale on your tour!